When we came across these fingerless mitts from a past issue of Spin Off, they brightened our day, and we hope they brighten yours, too. Current Spin Off magazine subscribers can log in to access the downloadable pattern PDF for the Helianthus Mitts by Stefanie Johnson at the bottom of this post. Not a magazine subscriber? Learn more about all the perks.
I'll admit there was a time when I didn't quite understand the purpose of fingerless mitts. As someone who is always cold, I found them to be about as practical as a puffer vest. Why would I choose to wear something that would, in theory, keep my torso warm while my arms remained cold?
My opinion of fingerless mitts changed when I got a job that was situated in an old bank building. The thing about this old three-story building is that the furnace was in the basement and my office was on the top floor. With the furnace in the basement, the heat had a long way to go, and I'm sure the old heating system wasn't exactly efficient. Needless to say, my office remained chilly almost year-round. So, I took to wearing fingerless mitts, which kept my hands warm while allowing my fingers to remain free for typing. And I loved them!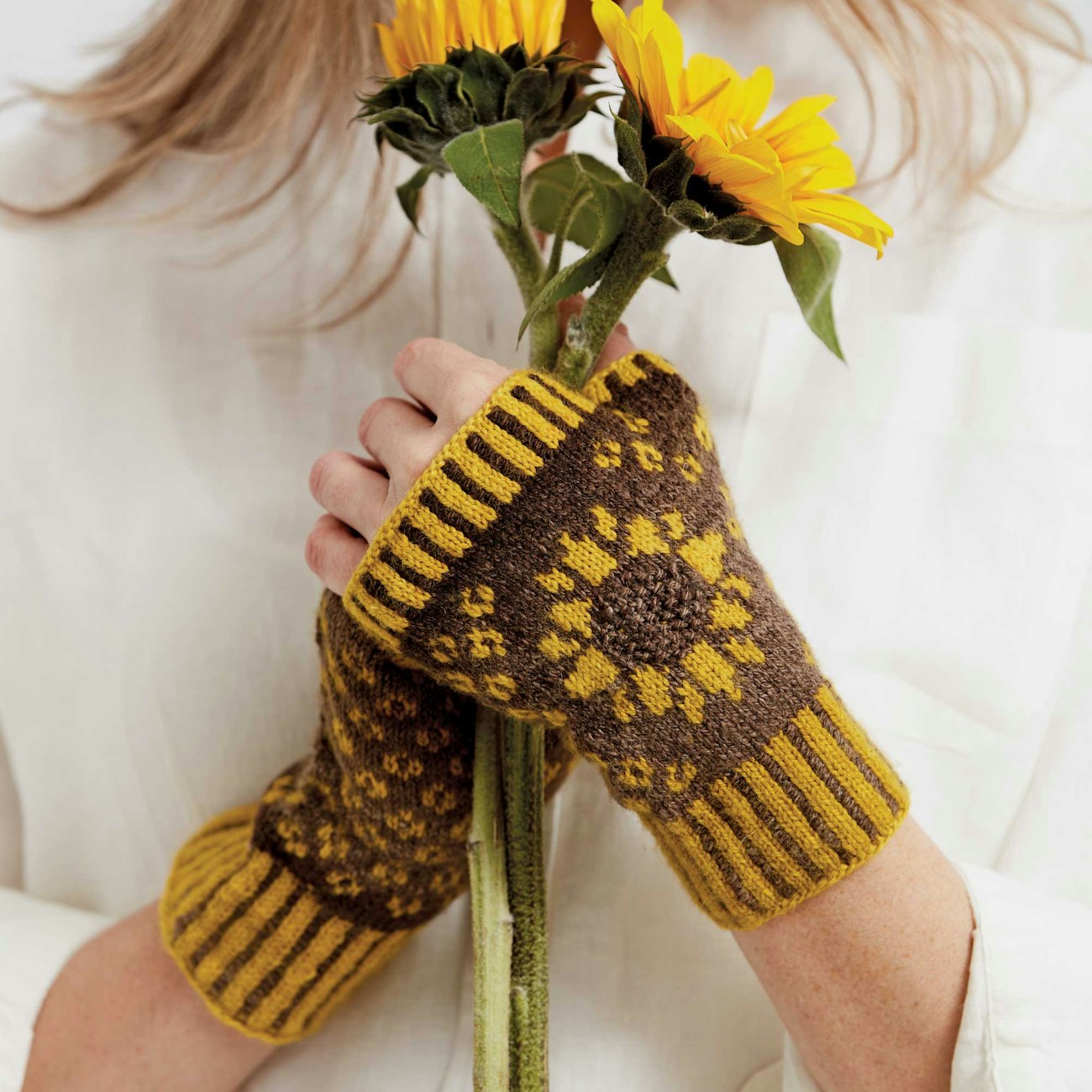 Stefanie's spirited mitts feature colorwork in two colors of handspun sportweight yarn.
Fingerless mitts are great for wearing anytime you need your fingers free for a task, be it writing, typing, driving, texting, or whatever! What I love about this version by Stefanie Johnson is the stranded colorwork design that features a pretty, stylized sunflower. Just looking at them makes me feel happy. After all, the sunflower has been the subject of famous paintings (think van Gogh) and is a popular motif on clothing and household items for good reason. A quick search on the meaning of sunflowers indicates they symbolize happiness, optimism, loyalty, and vitality. What's not to love?