It's no surprise that colorful versions of the Horseshoe Cap—originally introduced in 2010—still pop up on Ravelry from time to time. Current Spin Off magazine subscribers can log in to access the downloadable pattern PDF for the Horseshoe Cap by Janet Wray using the link at the bottom of this post or find it in the Spin Off library here. Not a magazine subscriber? Learn more about all the perks.
It's nice to spin and knit hats this time of year. For starters, it's a small project that's portable enough to take with you on your summer picnics or while you're watching your kiddos play sports or engage in water activities! Plus, you'll be prepared with gifts for the holiday season well in advance. Or you might just end up with a beautiful new hat for yourself when the weather turns cold. I'm trying to make more time in my day for spinning, and projects like this that require only a little bit of yarn can be inspiring (designer Janet Wray used only 2 ounces of roving and a little over 100 yards of her beautiful handspun). Browse the gallery of colorful examples below—hopefully they'll inspire you to make one, too!
Judy Tipple
Here are photos of my very favorite, go-to, handspun cap (from left to right).
Pink She Persisted Cap: Blue Moon Fiber Arts sold a fiber honoring Senator Elizabeth Warren called "She Persisted." I made this cap from the handspun to wear at the women's march in 2017.

Brown-and-white cap: I purchased a Sheep-to-Shoe fiber kit at the 2010 Madrona Fiber Fest in Tacoma. I started spinning there and ended up making a cap rather than socks.

Green-and-rust colored Dorothy's Chemo Cap: The woman who was the head gardener in my 55+ community had been in remission for three years when she received the news her cancer was back and she needed to start chemotherapy. I made this for her from a very soft Polworth.

Photos courtesy of Judy Tipple
Hollie Currie
I absolutely loved this pattern. It was easy to follow but produced impressive results. I would highly recommend this beautiful hat pattern.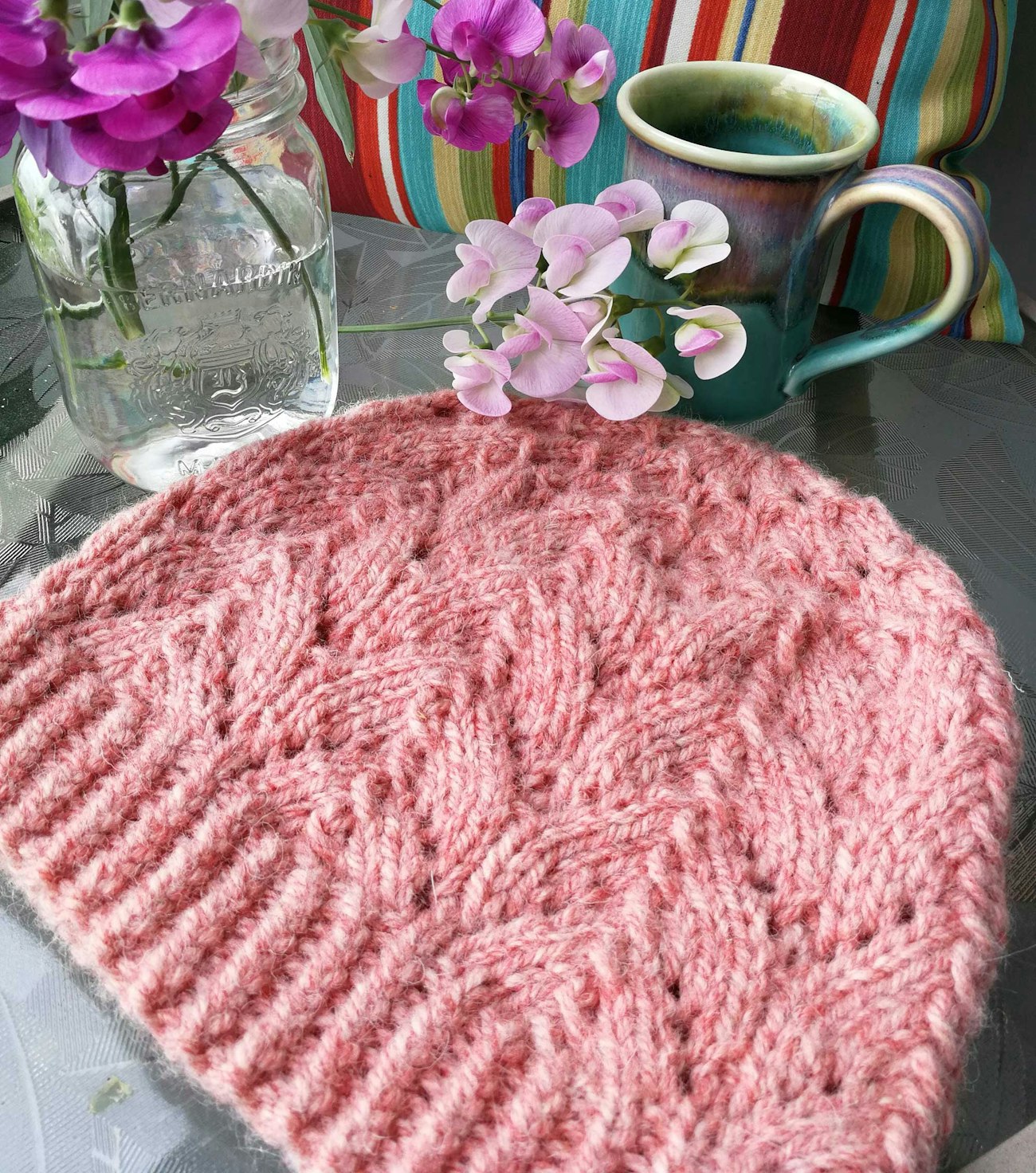 Photo courtesy of Hollie Currie
Elaine Fuller added a fun bobble to the top of her lovely verdant Horseshoe Cap (left). Marcia Molter spun Merino/black tussah silk for her beautiful red cap (center). And after Emily Verloop Thomas took a class to learn how to use leftovers from her stash to make a useable quantity of yarn, she selected nine different fibers from her stash that were complimentary in color to create her steely blue cap with multicolored flecks (right).

From left to right, photos courtesy of Elaine Fuller, Marcia Molter, and Emily Verloop Thomas
Colleen Brooks
This Corriedale colorway was blended by my late friend, Charlotte Anderson. One ply is mostly green and yellow and the other is mostly purple/pink/blue. She named it Denim, as the color reads as denim from a few yards away.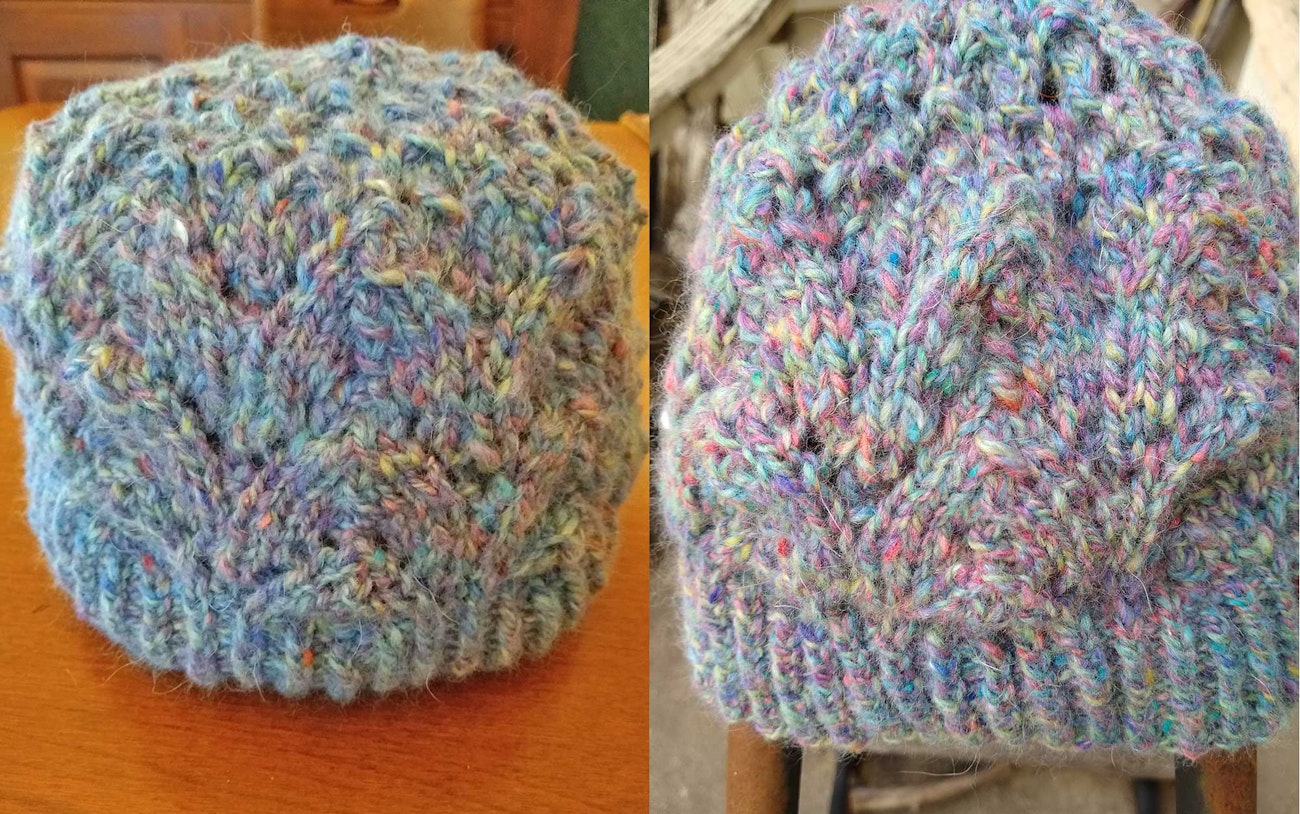 Photos courtesy of Colleen Brooks
For one of the most popular designs that's ever graced the pages of Spin Off, Janet Wray spun a soft and squishy Polwarth yarn that just begged to be knitted up into this beautiful lace cap.
Log in below to get your Horseshoe Cap pattern download.
Horseshoe Cap PDF Download
Click here to get the PDF download of the Horseshoe Cap Project Gallery and Pattern.