Subscribe to The Long Thread Podcast:

Venturing to a frozen lake in mid-winter, Josefin Waltin does something remarkable: She breaks the ice with a hatchet and climbs into the frigid water. And unlike an ice-bucket-challenge or polar bear dip, she does this every morning. With her head, feet, and hands covered in handspun wool knitwear, she looks pretty happy doing it, too. Although not everyone will take a dip in subzero temperatures, anyone who does should definitely wear wool for the adventure.
Josefin is a spinner, knitter, and fiber artist who has made the decision to primarily use heritage breeds of Swedish sheep. Although these 10 heritage breeds are unique to Sweden, the story of local sheep disappearing in favor of softer, uniform imported wool is shared across the fiber world. Using these breeds not only preserves her cultural heritage but also helps her craft more sustainably. Besides using heritage breeds of wool, she practices traditional (almost endangered) Swedish crafts such as twined or two-end knitting (tvåändsstickning) and nålbinding. They are slow processes. As Josefin says, "That's a superpower."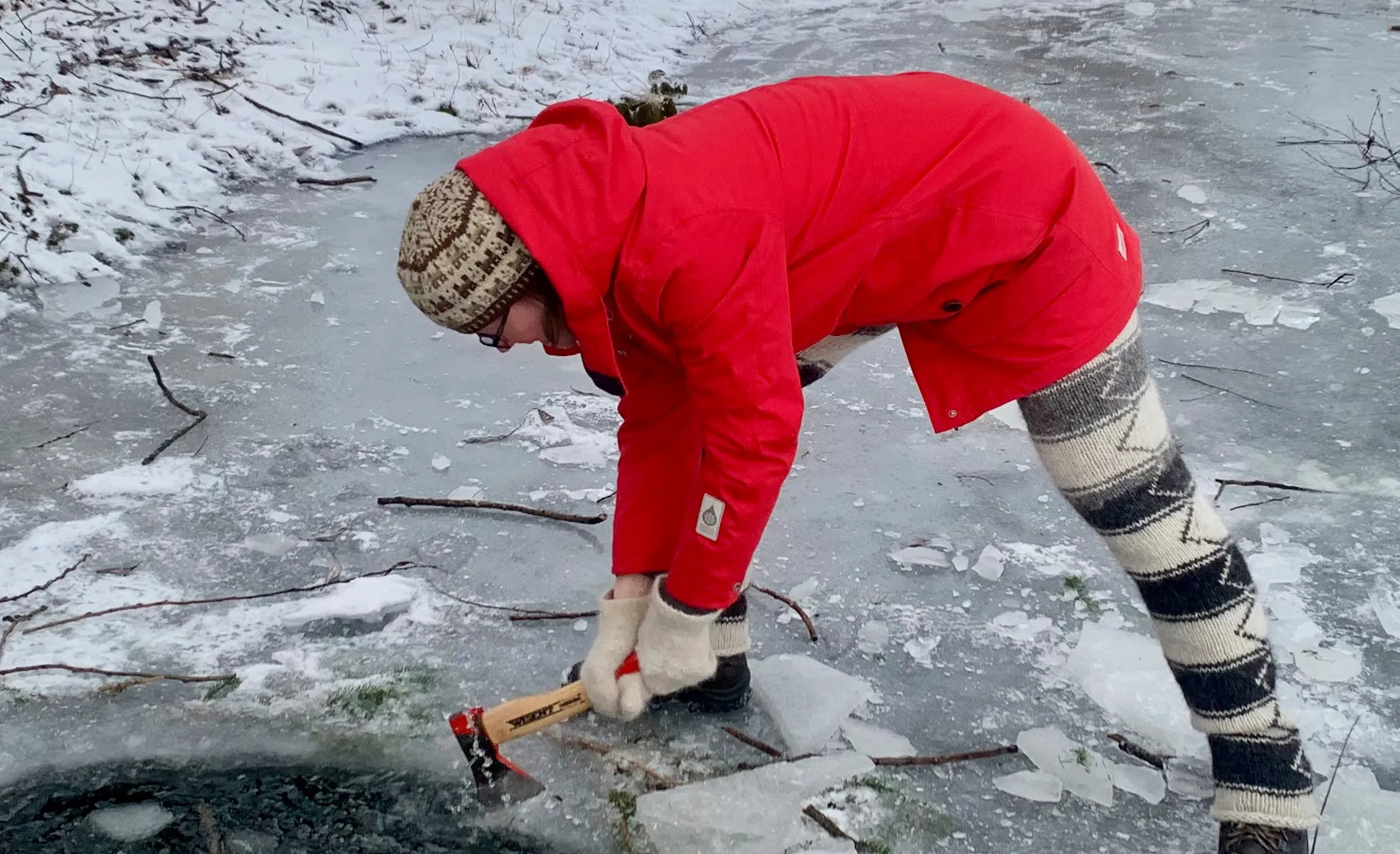 Josefin wears her handspun, handknitted "snow shoveling pants" to break the ice for her morning cold water bath.
But drawing on the fiber world around her doesn't mean her interests are provincial. In one recent project, she combined the fleece of a Gestrike-breed ewe with a traditional knitting pattern from the High Atlas Mountains of Morroco. Using a Navajo-style spindle, she spun two colors of yarn and knitted them into a pair of warm snow-shoveling pants.
Josefin is exploring fiber traditions besides spinning, knitting, and looping. Her annual wool traveling club is starting a two-year exploration of fulling, planning to visit a water-powered fulling mill and process their own handspun, handwoven fabric. Last year's traveling club exploration took them to the small village of Dala-Floda to learn påsöm embroidery, a rich and even bombastic embellishment tradition. (A wool traveling club sounds like a very good thing to have.)
Through her online classes and explorations of the world of wool, Josefin inspires me to learn globally and spin locally.
This episode is brought to you by: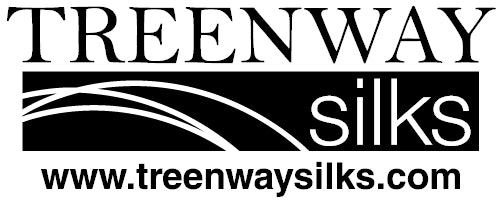 Treenway Silks is where weavers, spinners, knitters and stitchers find the silk they love. Select from the largest variety of silk spinning fibers, silk yarn, and silk threads & ribbons at TreenwaySilks.com. You'll discover a rainbow of colors, thoughtfully hand-dyed in Colorado. Love natural? Treenway's array of wild silks provide choices beyond white.
If you love silk, you'll love Treenway Silks, where superior quality and customer service are guaranteed.
Links
Josefin Waltin's website Josefin's Instagram Knit Spin Sweden by Sara Wolf and Josefin Waltin Keepers of the Sheep: Knitting in Morocco's High Atlas and Beyond by Irene Waggener