Subscribe to The Long Thread Podcast:

You may think of silk as just slick and shiny. (There's a reason we say "as smooth as silk.") But as she chased the thread of silk across Asia and through villages of Assam, Karen Selk discovered that it can be much more: It can be gold, copper, cream, and white. It can be slick or toothy, hardy or delicate. Most of all, it can be a delight for fiber artists and a way of life for men and women whose livelihood depends on worms, cocoons, and moths.
Besides what most people imagine what they think of silk, Bombyx mori, and even the less-common honey-colored tussah silk, there are a number of special silks available to today's fiber artists. They include different species, such as the shimmering gold of muga or the red or cream of eri. There are preparations from intact cocoons to pierced cocoons to mawata, top, and bricks, plus "waste" such as carrier rods, pulled sari silk, and the chocolate-colored peduncle stems of some tasar cocoons. Even within a single country—India—the variety of silk is rich enough to keep a fiber artist happily occupied.
Karen and her husband Terry founded Treenway Silks in 1977 and spend the next decades importing silk yarns from China, discovering unusual forms of silk in India, dyeing a huge palette of colors, and supplying material to weavers, spinners, stitchers, and other fiber artists. Since selling the business, she has continued teaching and writing; her book about wild silks is due out in Fall 2022.
Karen's tribute to her friend and traveling companion Michele Wipplinger, the founder of Earthues, appeared in our 2020 book The Long Thread. (Mention "Podcast" in the checkout notes to receive the ebook version when you order the print edition.)
Join us on a journey through Karen's life in silk.
This episode is brought to you by: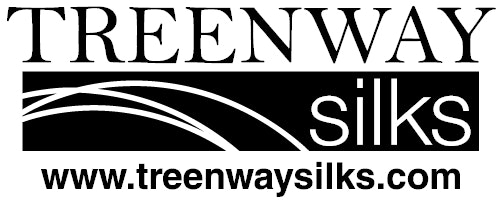 You'll find the largest variety of silk spinning fibers, silk yarn and silk threads & ribbons at TreenwaySilks.com. Choose from a rainbow of hand-dyed colors. Love natural? Their array of wild silk and silk-blends provide choices beyond white. Treenway Silks—where superior quality and customer service are guaranteed.
Links
Karen Selk's website
"Peace Silk—What Does It Really Mean?" appeared in Spin Off Winter 2013 pages 42–47.
"Journeys in the wild silk jungles of India" appeared in Spin Off Spring 2000, pages 56-76.
Central Silk Board of India — Wild (Vanya) Silk