Modern spinners are rediscovering the traditional Scottish spindle, believed lost for generations. With its whorl-less, cone-shaped body and crossing grooves cut into the bottom, the Scottish spindle, also called a dealgan (pronounced jal-a-gen), is as strong, practical, and dependable as the culture that created it. Want to learn how to spin on a Scottish spindle? Just follow these easy steps.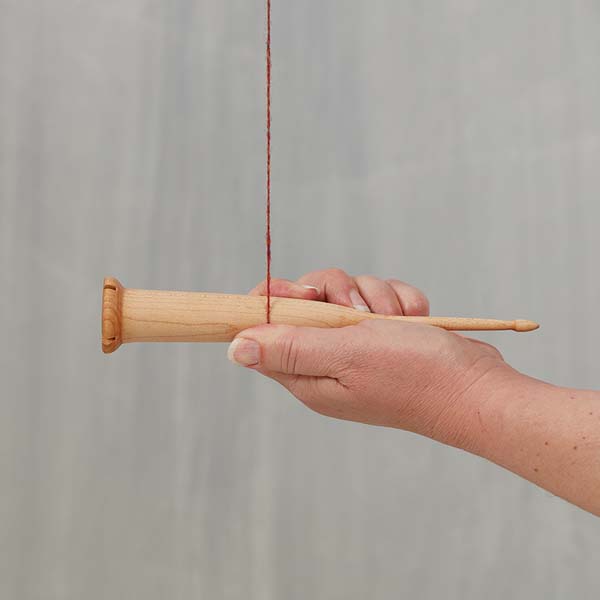 1. To begin, hold the leader yarn against the spindle about halfway down the shaft with your thumb.
2. Wrap the leader around itself two or three times to secure.
3. Stop with the yarn held upward (toward the knob on the top of the spindle).
4. Bring the leader down through one of the grooves on the bottom of the spindle.
5. Bring the leader back up to the top.
6. Secure the leader under the knob with a half hitch.
7. To spin, pinch the knob at the top of the spindle between your thumb and forefinger. Grasp the knob with your fingertips. Roll the knob clockwise along the pads of your fingers and let it go; use a quick flicking motion to get a good spin. These spindles may have a short spin time, so keep an eye on that as you draft. The Scottish spindle spins best with long-staple wool.
8. Once you have spun an arm's length of yarn, wind a butterfly on your hand and undo the half hitch. Unwind the yarn from the groove on the bottom and bring it up to about the middle of the spindle. Wind onto the spindle like you would wind a nøstepinne, creating a center-pull ball.
9. When you have wound to the length of a comfortable leader, wind the yarn down to the bottom, across the groove, and up to the knob to continue spinning.
Kiersten Flannery
---
Check out the rest of Kiersten Flannery's article, "Rediscovering the Scottish Spindle," in the Winter 2018 issue of Spin Off.
Kiersten Flannery is a young fiber artist from the mountains of north Georgia in the United States. She has a particular fondness for drop spindles. When she's not spinning, knitting, or writing, she is usually doing work on the farm with her family's alpacas. Photos by George Boe.
Posted December 4, 2017. Updated July 8, 2019.