When I ride by bike to work during the winter in Stockholm, I need woolen handcoverings that are strong and durable but also keep my hands warm and dry. Twined knitting makes a sturdy fabric that will last forever, especially if you use a fiber that has an outercoat for strength and undercoat for softness and warmth.
For my Heartwarming Mitts, I used lamb's wool from Värmland sheep in a subtle mother-of-pearl shade with honey-dipped tips. Värmland, a Swedish landrace, has the strong outercoat and soft undercoat I wanted for twined handcoverings. A double-coated Shetland would also be a good choice, or you could blend fiber from two breeds for the same effect, such as Finn for warmth and softness and Lincoln for strength.
Spinning for Twined Knitting
Twined knitting, a Swedish technique that requires two working yarns that are twisted together after each stitch, makes a sturdy fabric with very little elasticity. The yarns used for this technique are spun and plied in the reverse directions compared to how most yarns are made by both handspinners and mills.
Combing and spinning with a worsted draft is a good choice for twined knitting because it gives the fabric more stitch definition. For my mitts, I prepared my fleece by flick carding each individual lock. I spun with a worsted draft from the cut end to preserve the color variation throughout the staples. Spinning from the cut end also ensures that each draft includes both the shorter undercoat and the longer outercoat fibers.
From my 195 grams of fiber I got 118 grams of yarn, which makes a yield of about 60 percent. I spun the singles S (counterclockwise) and plied Z (clockwise). For these mitts, I wanted about 200 meters (220 yards) of sportweight 2-ply yarn (14 wpi). That way I was on the safe side and could make proper swatches, too. I had 21 meters (23 yards) of yarn left after two mitts and two swatches. Each mitt used 80 meters (90 yards) of yarn. I had a spinning angle of about 25 degrees and a tpi of 3. For twined knitting, you can definitely add more twist (up to about 35 degrees) for more stitch definition. However, my fiber wouldn't take any more twist, and I stopped at 25 degrees. My yarn measured 1,830 m/kg (910 ypp).
Twined Knitting Basics
Twined knitting is done with needles one size or one-half size smaller than for the same yarn in regular knitting. It is also knitted more firmly, so I tug gently on the just-knitted yarn after every stitch. Because it's easy to knit increasingly looser as the fabric grows, I knit mitts or socks two at a time when trying to create a matching pair. The technique is quite slow compared to regular knitting, but a twined-knitted garment will last a lot longer. For this reason, twined knitting may actually be more efficient in the long run. Twined purling is even slower than twined knitting and harder on the wrists. Therefore, twined knitting is almost always done in the round.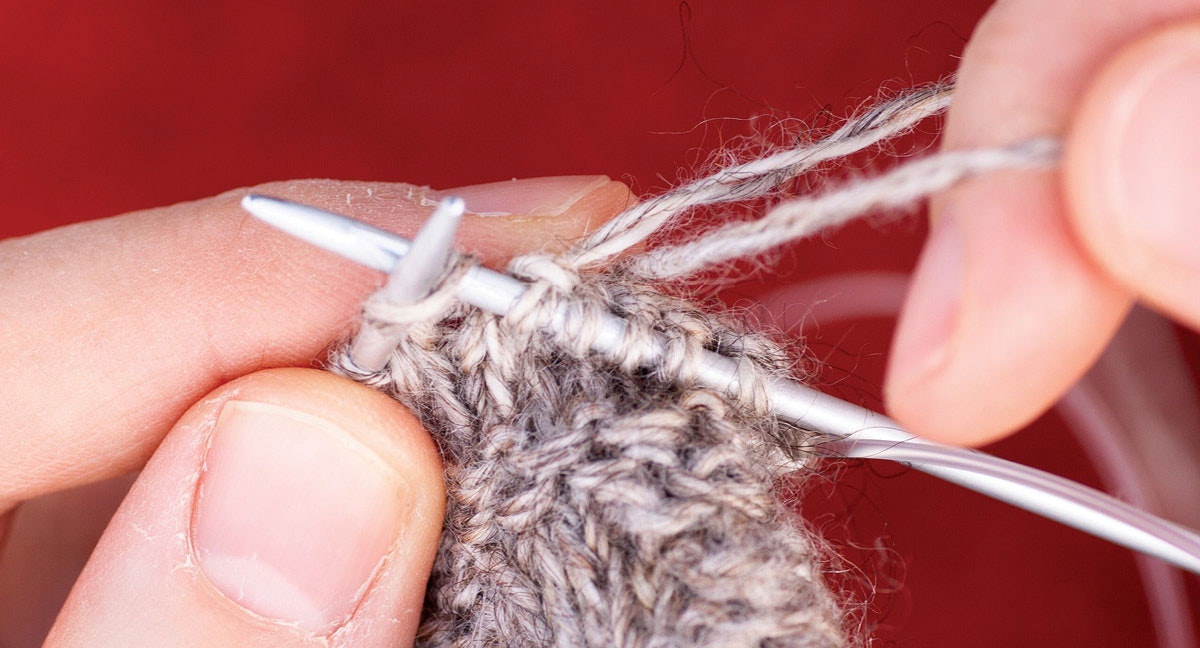 Stockinette in Twined Knitting
I hold both yarn ends in my right hand. For even tension, I loop the yarns around the base of my right pinkie. To twine knit, I insert the needle in the stitch knitwise, pull the yarn end closest to me, and throw it over the needle as I would for a typical knitted stitch. I pull the yarn through the stitch and drop the old stitch, and I have knitted my first stitch. I tug the just-knitted yarn end slightly so the fabric doesn't grow looser and looser. After the first stitch has been knitted, the other yarn end is closest to me for the next stitch.
Crook Stitches and Crook Rounds
Crook stitches can make surface patterns on a twined-knitted project and are unique to the technique. Crook rounds will create a fabric that is slightly narrower than stockinette and is therefore a good choice for the wrist of a mitten.
I place one yarn end on the front of the work and one on the back, with both yarn ends still looped around my right pinkie. For one round, I purl with the front yarn and knit with the back yarn. This creates the same pattern on both sides of the work, only mirrored. For the next crook round, I knit the purl stitches and purl the knit stitches. In a row with both twined stockinette and crook stitches, I need to move the yarn ends: both to the back for stockinette and one end on each side for the crook stitches.
Crook rounds and crook stitches are typically marked O–O (k1, p1, k1) in a pattern. The "–" is a knit stitch and the "O" is a purl stitch with the purl yarn in front of the work and the knit yarn in the back. The next row should then be knit –O– (p1, k1, p1) to make the lovely squiggly surface pattern typical of twined-knitted textiles.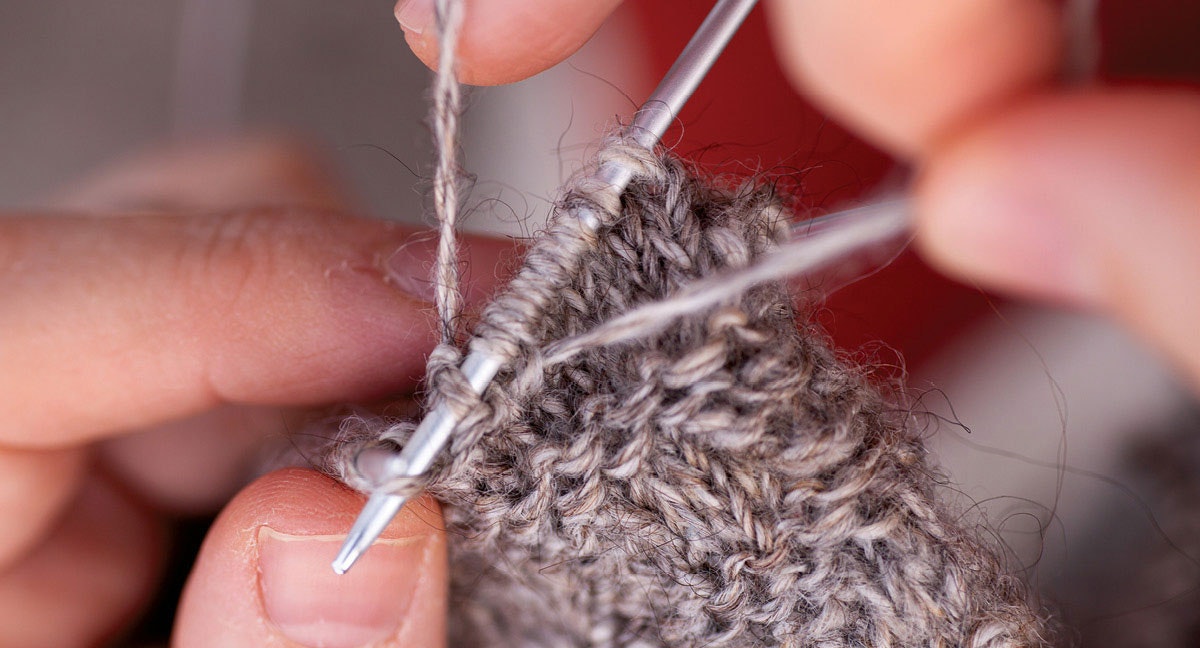 Watch Your Tension
Knit both mitts at the same time. Really. If you knit one at a time, you will run a great risk of ending up with mitts of different sizes. That's what I did for my first pair of twined-knitted mitts (sadly lost on the Stockholm Metro), and I struggled to knit a second mitt the same size. You can felt the larger one to match the smaller one if disaster happens, but it is a lot easier to just knit the mitts simultaneously.
Center-Pull Balls
Make one center-pull ball of yarn for each mitt. I prefer to wind mine on my thumb, but you can just as easily use a nøstepinne or a ball winder. When you twine knit, you will use both ends of one ball of yarn for each mitt. Since you twine the yarn ends, the yarn closer to the project will get untwisted and the yarn closer to the ball will be overtwisted. After a while it will get harder and harder to knit, and you need to untwist the yarns. When this inevitably occurs, make a half hitch around the ball with the working yarns. This makes it possible to hold the yarn ends up and let the ball untwist itself. When you have too little slack left, just undo the half hitch, pull out some more yarn, and make a new half hitch.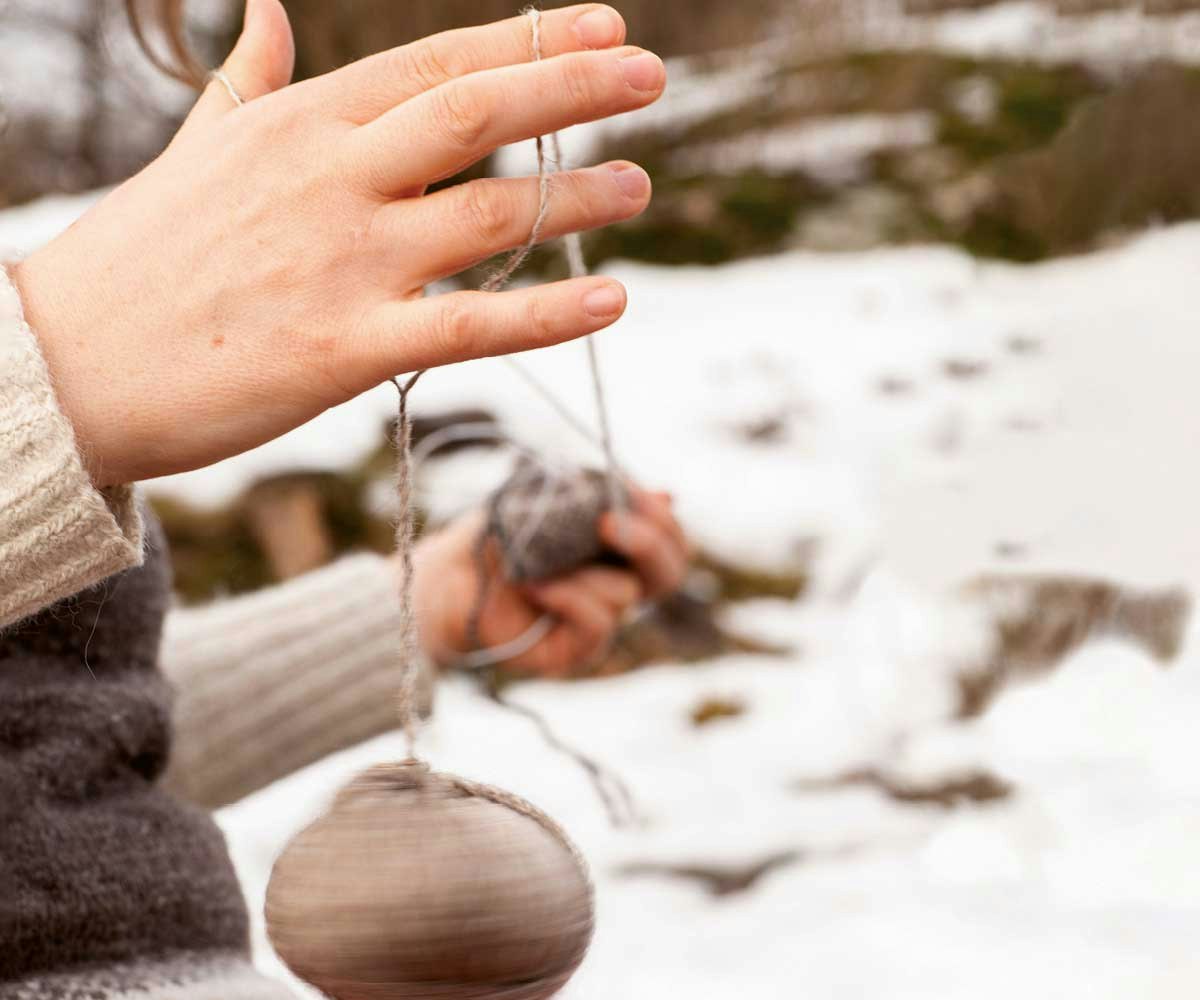 Heartwarming Mitts
Fiber 7 oz dual-coated wool.
Yarn 2-ply (spun S and plied Z); 220 yd; 910 ypp; 14 wpi; sportweight.
Needles U.S. sizes 1-1/2 (2.5 mm) and 2-1/2 (3 mm): set of double-pointed needles (dpn). Adjust needle size if necessary to obtain the correct gauge.
Notions Marker (m); contrasting yarn (CC) for CO; stitch holder; tapestry needle.
Gauge 38 sts and 34 rnds = 4" in twined St st on smaller needles.
Finished Size 6-3/4" wrist circumference and 6-3/4" tall.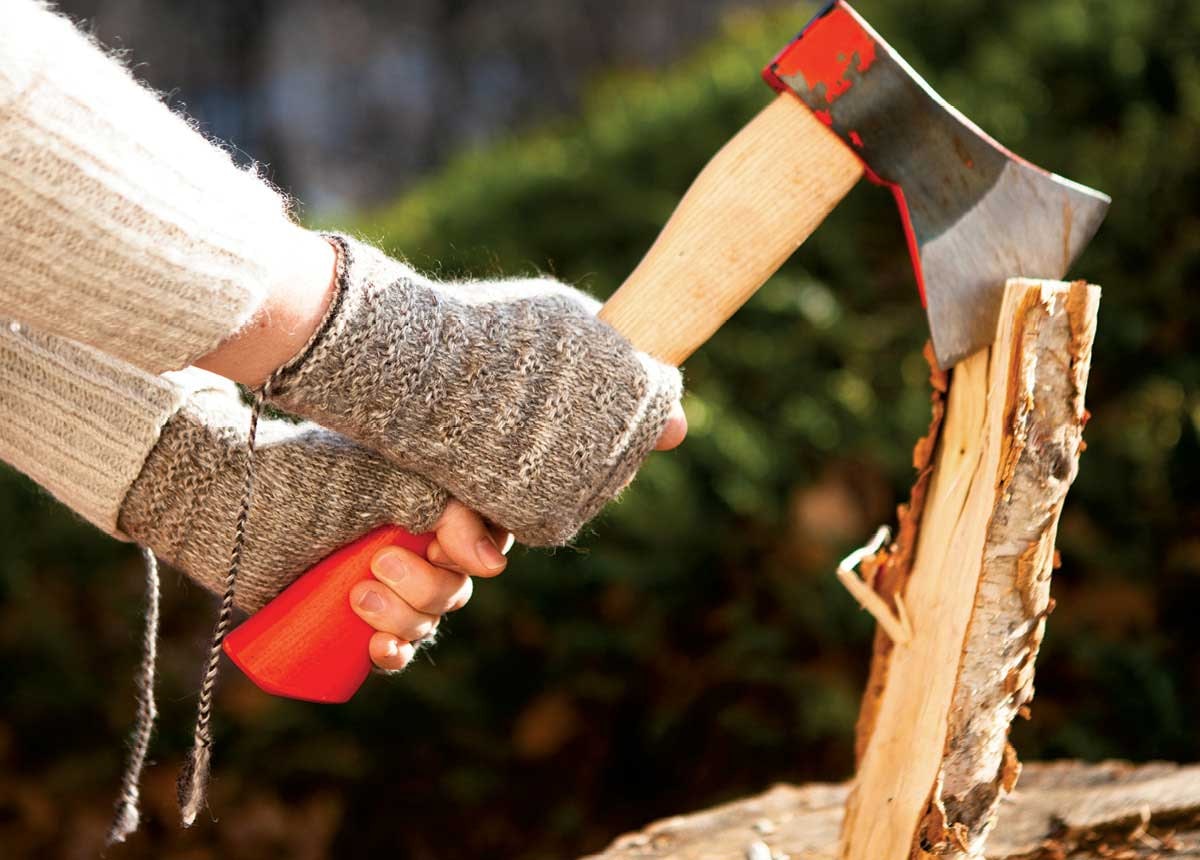 To knit your own pair of Josefin Waltin's Heartwarming Mitts, download a copy of the Fall 2019 issue of Spin Off.
Josefin Waltin started spinning in 2011. She is a spinning teacher and teaches both online and offline. She publishes instructional and documentary-style videos and manages a spinning blog from her home in Sweden at www.waltin.se/josefinwaltinspinner.