Although I spend most of my spinning time creating specific handspun yarns for specific projects, I also give myself space to spin for sheer joy—no rules, no calculations, no grand plans. With wild abandon in the wee hours of the morning, I might pick up a beautiful batt that was tucked into my stash and just start spinning. This usually results in skeins of handspun yarn that I love, but I need to find just the right project to fit the gauge and yardage. You can do the calculations to adapt a particular pattern for handspun, but sometimes it's best to start from the yarn you have.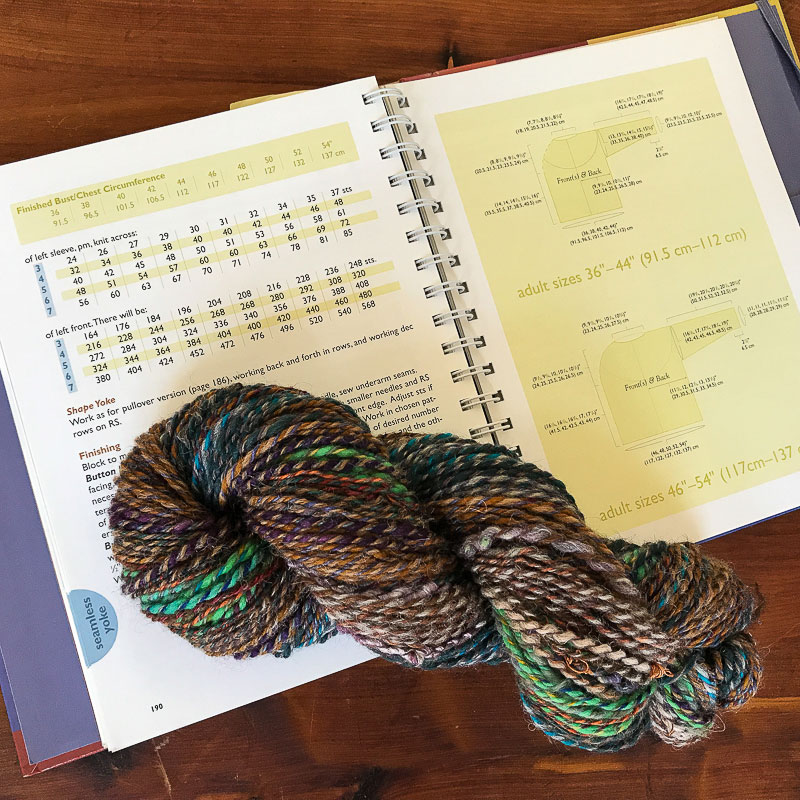 For more than a decade, Ann Budd's series of Handy Books and Guides have helped us figure out what to do with beloved skeins in need of some stash-busting inspiration. I was just beginning to knit with my handspun when The Knitter's Handy Book of Sweater Patterns was published in 2004. The simple shapes and sweater styles were just what I needed as I learned to adapt patterns to meet my spinnerly needs.
Do you have a pile of yarn and a vague sweater idea? Ann's books will help you get from point A to point B.
Here's what you need:
1. Gauge swatch
Knit a swatch using the stitch pattern you plan to use. Wash and lay flat to dry or pin out on a blocking mat and steam. Measure the number of stitches and rows per inch once it is fully dry.
2. Finished garment size
Like in the image below, find a sweater (handmade or commercial) that fits the way you want. Measure across the bust, hem to neck, armhole to neck, and cuff to armhole.
3. Yardage estimate
How much yarn do you have? If the yarn is in skeins, you can measure each individually or by using a Yarn Balance.
Now, pick your sweater style, such as seamless yoke (a personal favorite), raglan, or set-in sleeves. Find that section in the book and simply follow the instructions for the finished size and gauge you calculated. These basic garment shapes can be adapted endlessly with interesting cast-ons and bind-offs, waist shaping. and textured stitches. Pattern freedom without spending hours hunched over a calculator!
—Kate Larson
Featured Image: Ann Budd to the rescue. Photos by Kate Larson
---