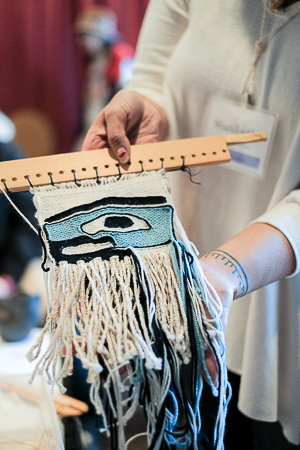 The Suquamish Museum in Washington State hosted the None on February 19‒21, 2016. Organizers created a "hybrid gathering," a blend of scholarship and the act of creating cloth. Participants split their days between morning presentations and hands-on workshops in the afternoons. To further highlight the life and vitality of the modern Salish weaving tradition, participants were able to purchase tools, materials, and finished goods at the wool weavers' marketplace and share their work in the Salish wool fashion showcase and competition.
This was the first event of its kind for the Salish textile tradition in the Pacific Northwest. Registration for the symposium closed early, after quickly reaching capacity at 180 participants from both the United States and Canada. A museum press release adds more context: "The Coast Salish tradition of weaving wool into clothing, ceremonial regalia, and blankets is thousands of years old. Like many of our cultural ways, it was in danger of dying out. It is now on its way towards making a full resurgence. There have been weaver-teaching-weaver gatherings in Washington State and in British Columbia for years, however there has not yet been a large, formal gathering to celebrate the study and the practice of Salish wool weavers. . . . We have partnered with the University of Washington's Native Voices Indigenous Documentary Film Program to document the SWWS, as well as to create a mini-documentary on Salish wool weaving and the gathering."
The Suquamish Museum is making plans for a variety of future events, including smaller and more regional gatherings in addition to larger, international events like the one held this year. But you can visit the museum throughout the year to learn more about Salish traditions. On March 5th, you can see Salish weaving demonstrations and visit an ongoing exhibit entitled Woven: Contemporary Salish Wool Weavings by Danielle Morsette.
Symposium coordinator Miranda Belarde-Lewis shares, "This is the year of weaving at the Suquamish Museum. The Woven exhibit featuring the weavings of Danielle Morsette (Suquamish/Sto'lo) is up right now and is phenomenal. We will be opening master wool weaver Susan Pavel's mid-career retrospective in May and master weaver (of both cedar and wool) Betty Pasco's (Suquamish) exhibit in September." Visit the website for further information about exhibits and future events.