The countdown to 2022's SOAR event continues. We're excited to make new friends and reconnect with old ones. Last week we introduced you to a group of instructors who have never before taught at a SOAR event. Here we give you a sneak peek at the instructors who will be returning to teach at SOAR for the umpteenth time. We were even able to dig up a few fun snapshots of returning instructors from the Spin Off archives!
Maggie Casey is the expert spinner and teacher behind the video workshop The Spinning Teacher and the author of Start Spinning.
Fun Fact: Maggie was the co-owner of Shuttles, Spindles, and Skeins in Boulder, Colorado, which became her favorite place to hang out, teaching classes and getting to know her students.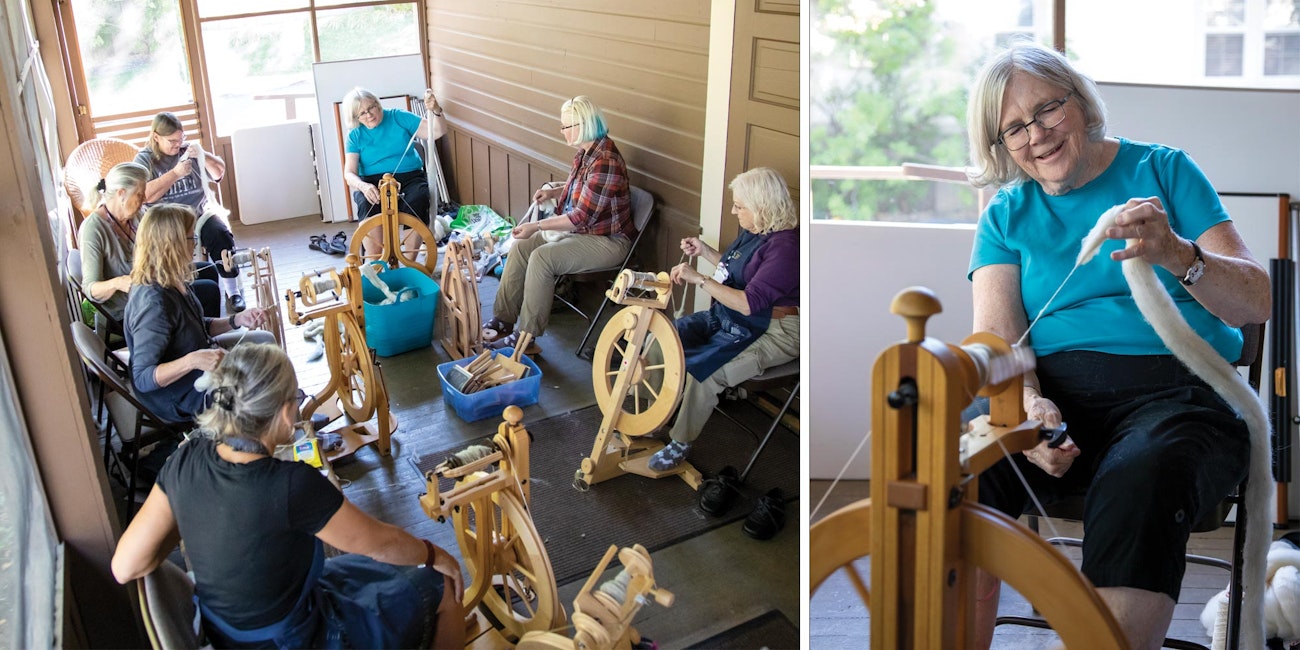 Here Maggie teaches spinning on a wheel at the 2021 SOAR event at the Colorado Chautauqua in Boulder, Colorado. Photos by Matt Graves
Stephenie Gaustad is the illustrator of the Alden Amos Big Book of Handspinning and the author and illustrator of Practical Spinner's Guide: Cotton, Flax & Hemp; she is also the instructor behind the Spinning Cotton video workshop.
Fun Fact: Stephenie has been working in textile arts since the age of eight!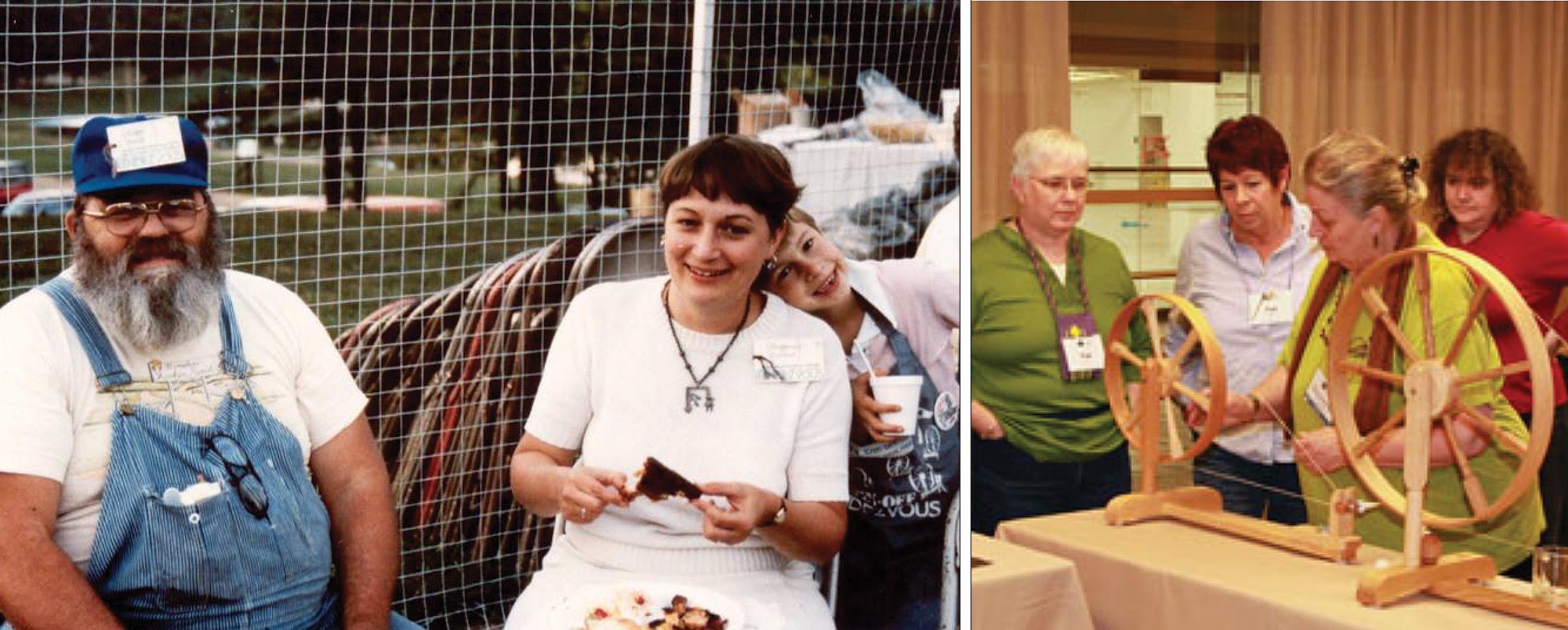 Alden Amos and Stephenie Gaustad are shown at 1987's SOAR in Potosi, Missouri (left). Stephanie and her students at SOAR in 2013 in St. Charles, Illinois. Photo by: Ernie Conover
Kate Larson is the editor of Spin Off magazine and the author of Practical Spinner's Guide: Wool.
Fun Fact: Kate has a degree in soil chemistry and keeps a flock of Border Leicester sheep on her Indiana farm. Learn more in her posts on the Spin Off website.

Kate is shown teaching at 2012's SOAR event in Lake Tahoe, California (left), and at SOAR in 2021 at the Colorado Chautauqua in Boulder, Colorado. Photo by Matt Graves
John Mullarkey is the author of A Tablet Weaver's Pattern Book and the weaving teacher behind the instructional videos Tablet Weaving Made Easy and Double-Faced Tablet Weaving.
Fun Fact: John is the developer of the Schacht Zoom Loom. Learn more at malarkycrafts.com.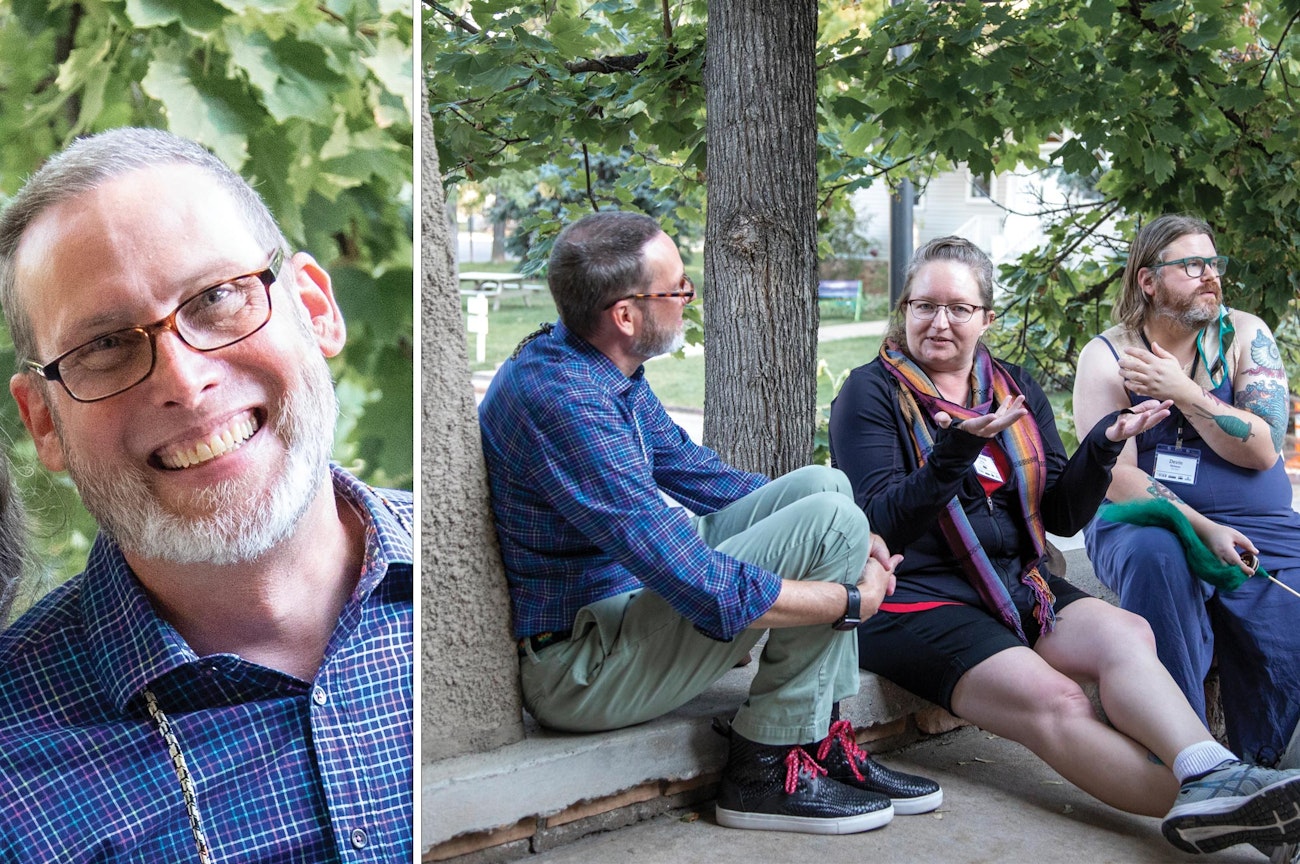 John Mullarkey visits with staff and students at SOAR 2021 at the Colorado Chautauqua in Boulder, Colorado. Photos by Matt Graves
Karen Selk is the founder of Treenway Silks and the author of In Search of Wild Silk. She has found that all things silk provide a thread that binds together travel, research, writing, artwork, educating, and managing a successful silk business.
Fun Fact: Karen studied the Chinese language in college and has been on numerous expeditions to Asia to research the history and heritage of silk production and traditions. See some of her work at karenselk.com.
Karen and one of her botanical prints using silk. Photos courtesy of Karen Selk
We're so excited to see all of our new and returning instructors and students, and we can't wait to see what you make! Be sure to share your creations using the hashtag #SOARwithSpinOff.