We were so impressed with all of the finished projects that spinners around the world created during the 2023 Spin Off Lace-along that we decided to share them all with you, our fabulous readers! Click to see Part 1 of the gallery, and scroll down to see even more wonderful projects. —Spin Off editorial staff
Jenifer Ebel
(Jenifer's finished shawl is shown at top.)
It started with two beautiful silvery batts of kid mohair and silk that I won in a drawing on Ravelry (thank you, Lois!). I used that for the lace. Allons-y! does beautiful long gradients in the softest wool: New Zealand Haunui Half Breed and silk. I chose the pattern "Long Johns and Lace" by Pacasha Younger for its simplicity (to highlight the gorgeous colors) and textures (seed stitch and the openwork of the lace). The shawl has it all: great drape, incredible softness, loads of texture, and lovely soft colors.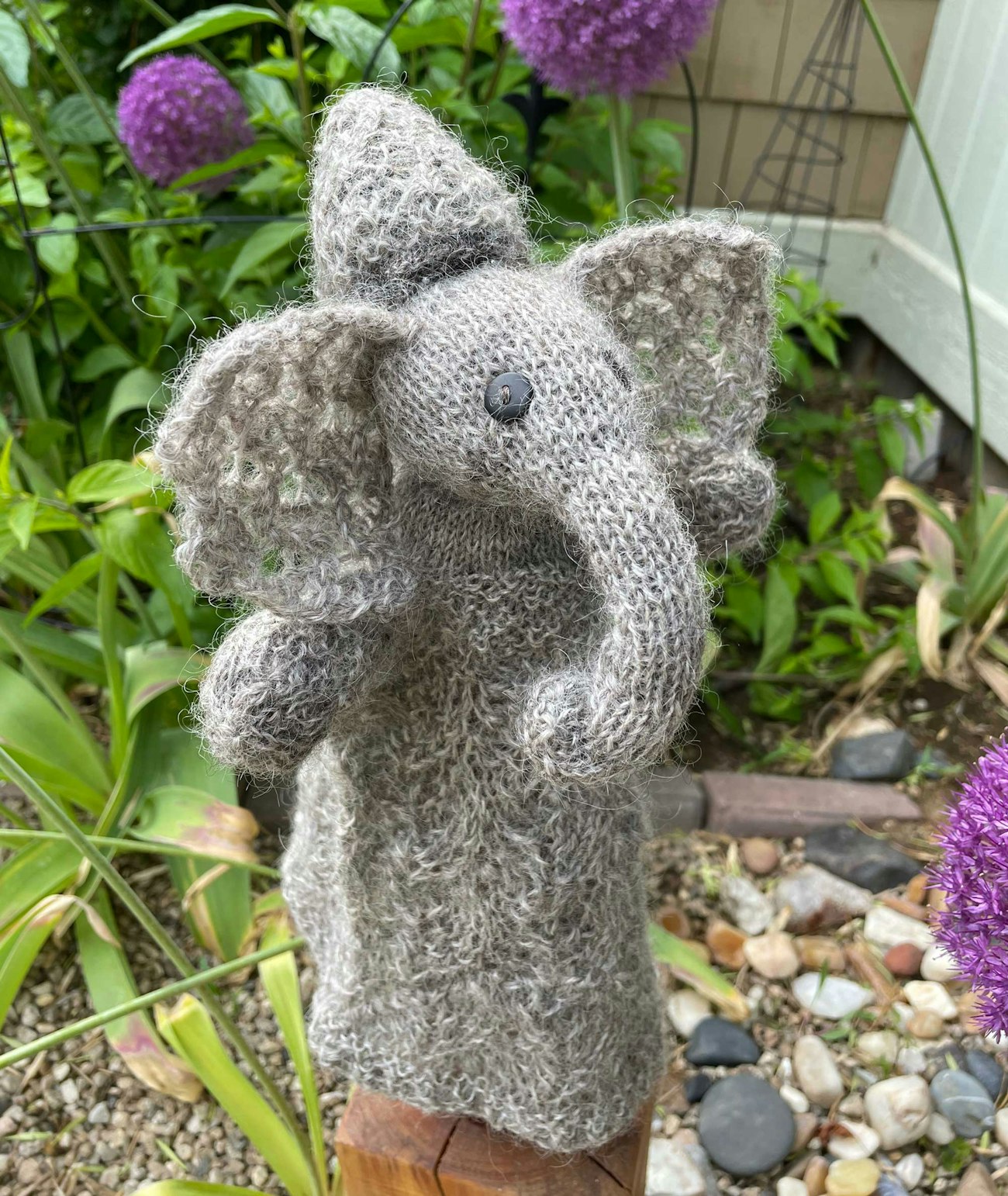 Photo by Loranel Flatz
Loranel Flatz
I have been spinning the Shave 'Em to Save 'Em fibers, and this one was my third. I decided to make puppets to help me remember what each fiber felt like. I purchased this Cotswold natural silver roving from Blackberry Heritage Fibers. I just let the fiber let me know what puppet it might like to be, and this one shouted, "Make me a lacy elephant!" I'm really enjoying this fiber adventure.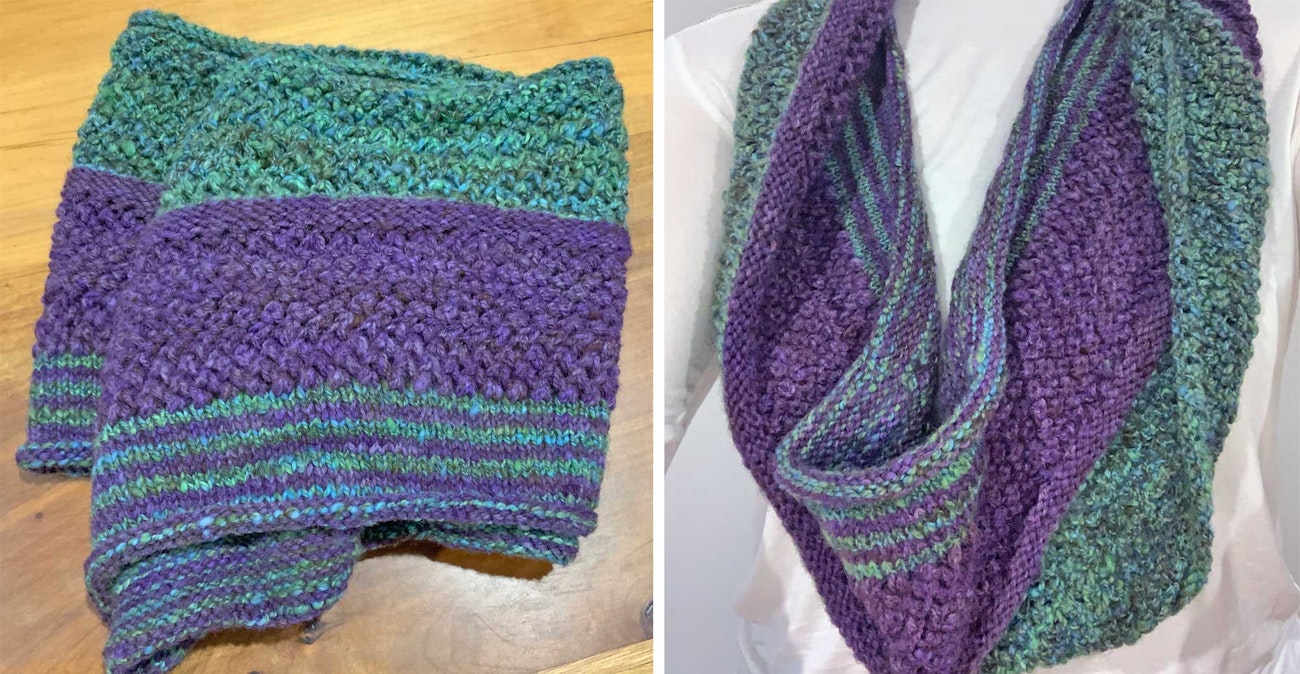 Photo by Kerryn Newbegin
Kerryn Newbegin
This cowl project was an experiment in blending Merino and alpaca fibers. The blue-green yarn was combed first, then further blended on the blending board. The singles were dyed individually—blue and green—and then plied. The purple was blended entirely on the blending board, which created a much smoother preparation and even yarn, and then plied and dyed. The pattern is "Namaste" by Lulu Designs—a forgiving pattern, which I appreciated.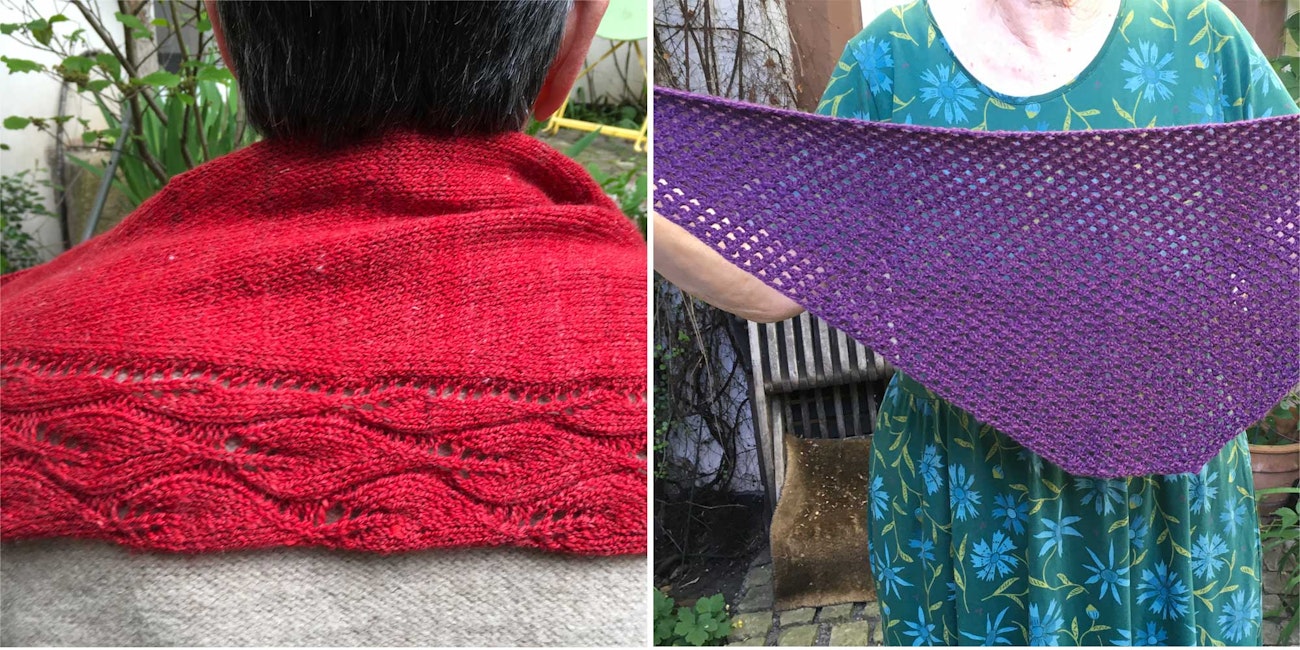 Photo by Mary Waechter
Mary Waechter, Germany
This red shawl was knit following the "Candle Flame Shawl" pattern by Doris Formby. For the yarn, I spun fiber from Hilltop Cloud (70% superfine Merino, 30% tussah silk), to make a two-ply yarn of about fingering weight. I haven't had much experience with lace knitting, but this pattern was quite easy and I really enjoyed it.
The purple scarf was knit following the "Lava Lace Scarf" pattern by Evelyn A. Clark. For the yarn, I spun Corriedale fiber in two different shades of purple from an Ashford color-sampler box. I spun the colors individually then plied them together. The overall lace pattern was easily memorized, and I just kept knitting until all the yarn was used up (the fact that this was possible was one of the reasons I chose this pattern).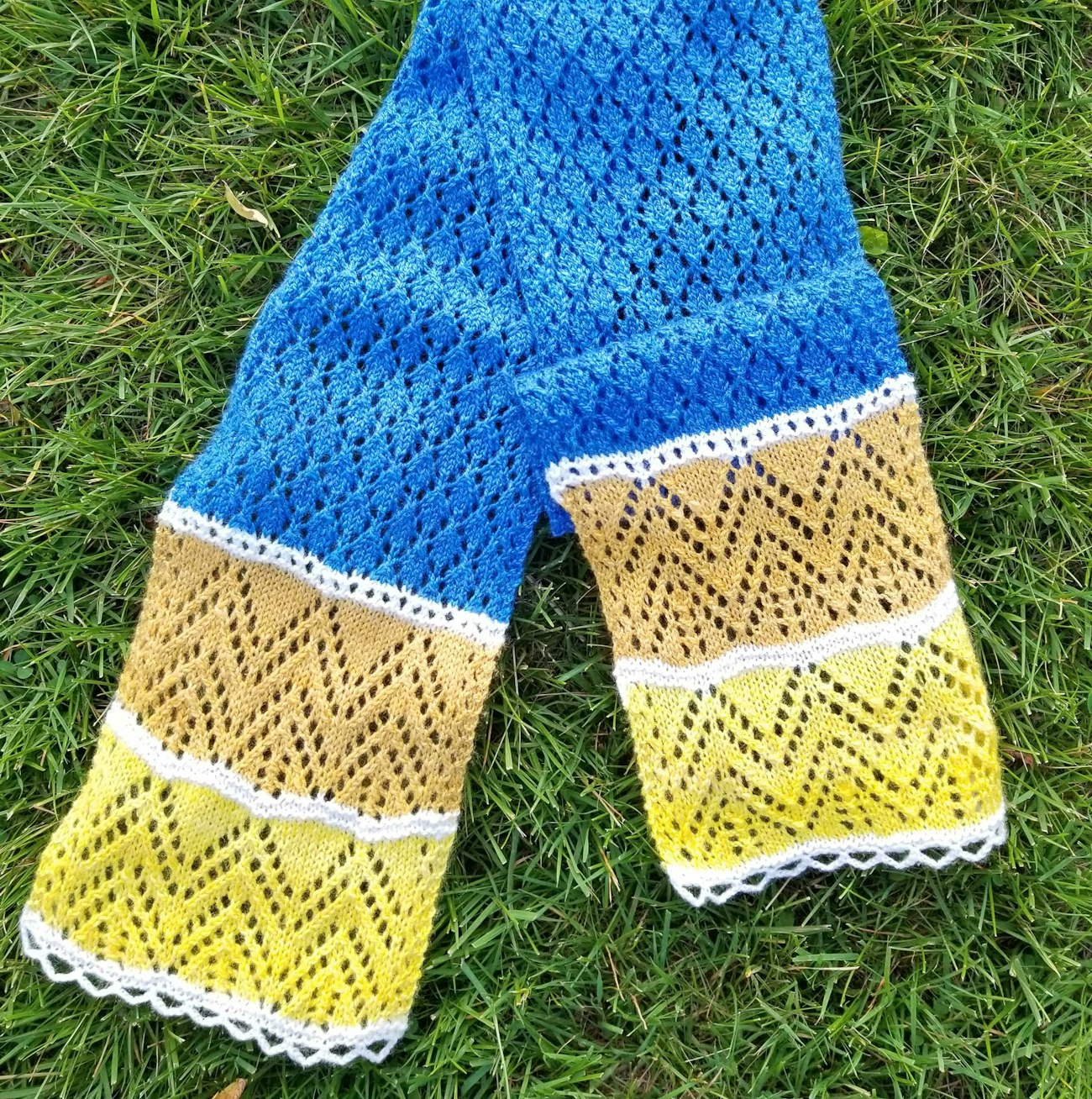 Photo by Martha Driscoll
Martha Driscoll, Danvers, Massachusetts
The inspiration for this lace scarf was a braid of silk/Merino top hand-dyed in Ukraine colors. I separated the colors and spun them on my Turkish spindle at 32 wpi, ending up with a laceweight two-ply. There wasn't enough blue in the braid, so I spun some Merino in a closely matching blue and plied that with the silk/Merino. Evelyn Clark's "Icelandic Long Shawl" pattern showcases the color blocks.
Photo by Marie Quig Hobson
Marie Quig Hobson
I wanted to attempt a combination spin to practice spinning consistently. I acquired three 4-ounce braids of coordinating fiber. I divided the braids into thirds, spun three singles, and plied the three singles together. The 12 ounces of fiber yielded three skeins of yarn with about 2,100 yards at a fingering weight. I then used the yarn to knit a round shawl, using the pattern "Lumin" by Expression Fiber Arts, which I chose because the pattern had tons of yarn overs.
Photo by Ruth Burnham
Ruth Burnham
I chose the "Orchid Thief" pattern by Ysolda Teague (available on Ravelry). It used about 440 yards of yarn on size 6 (4 mm) needles. The yarn I used was my own handspun white Merino fiber from New Zealand, about 2 ounces worth, which was spun and plied on a HansenCrafts miniSpinner. I started spinning the yarn on February 5, 2023, and finished knitting the shawlette on February 15.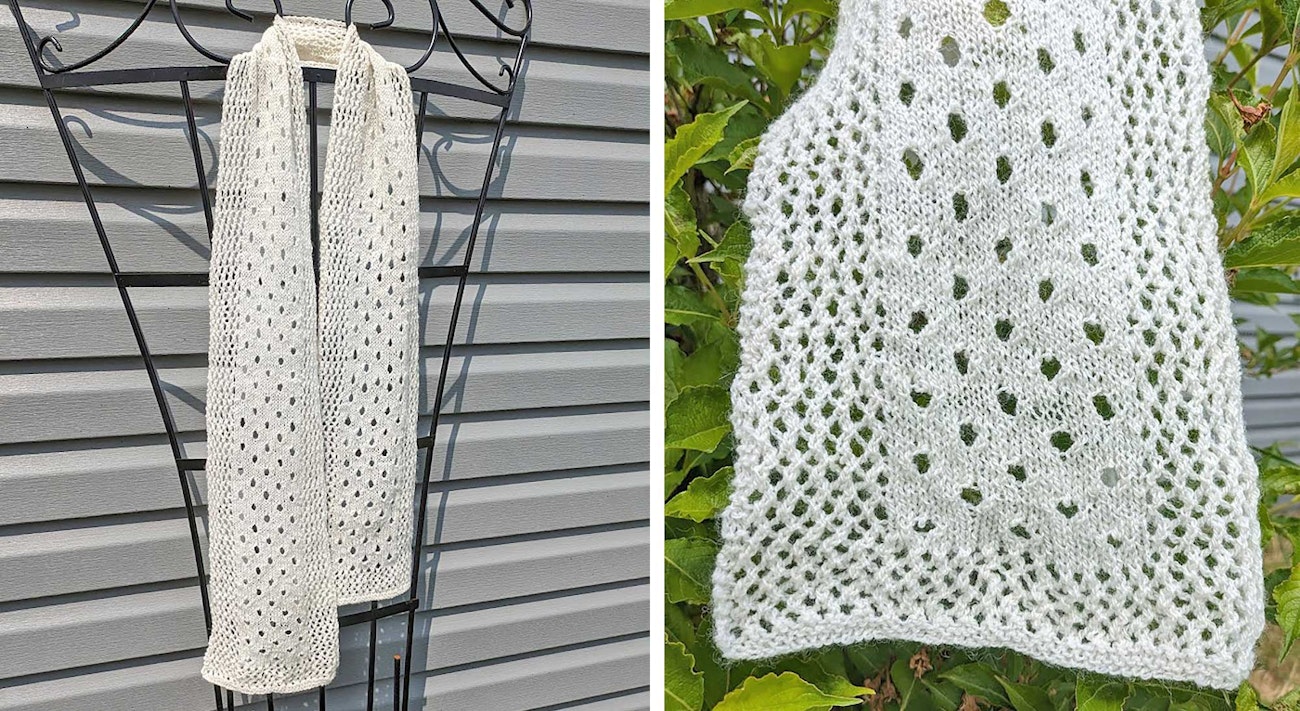 Photo by Sondra Gingery
Sondra Gingery, Delta, Ohio
I chose Alana Tatter's pattern "Lace Scarf in Waves & Eyelets." I wanted a yarn that would be crisp enough to show the lace well and yet soft enough to wear next to the skin. I blended and combed 75% Corriedale with 25% alpaca that I had processed from raw fleece. It was spun on my Schacht Ladybug wheel. The scarf knitted up into a very light and airy fabric.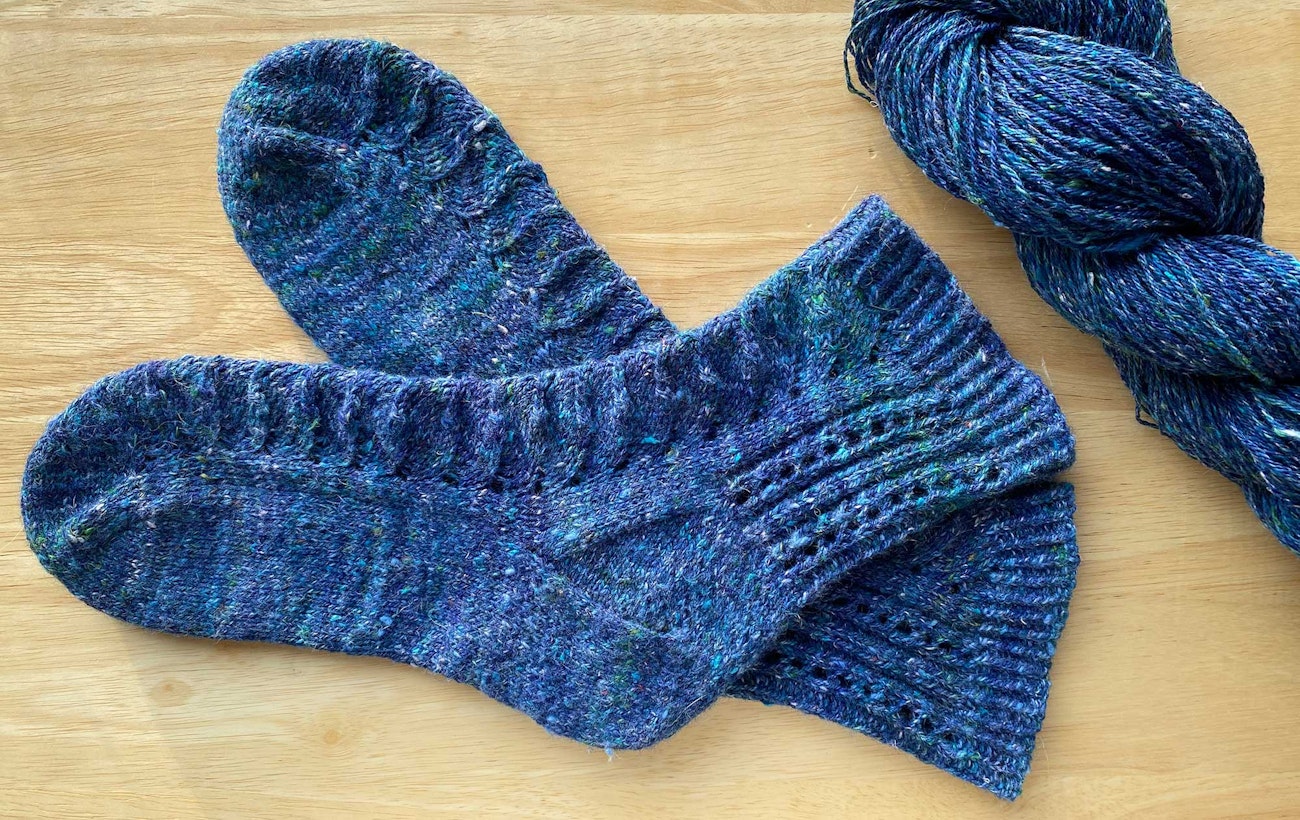 Photo by Stefanie Johnson
Stefanie Johnson
I set an easily achievable goal for myself for this year's Lace-along: to spin a three-ply sock yarn and knit the "Green Lake Socks" pattern by Kristi Schueler. My original plan was to draft green sari silk and Leicester longwool locks alongside one of the plies to add some pops of green to my spin, but just before the spin-along started, I decided to blend the green fibers into carded, dizzed roving instead for a smoother spin. I was so pleased with my yarn that I knit the socks up in 10 days while starting another spin. These annual spin-alongs really jump-start my wheel every year.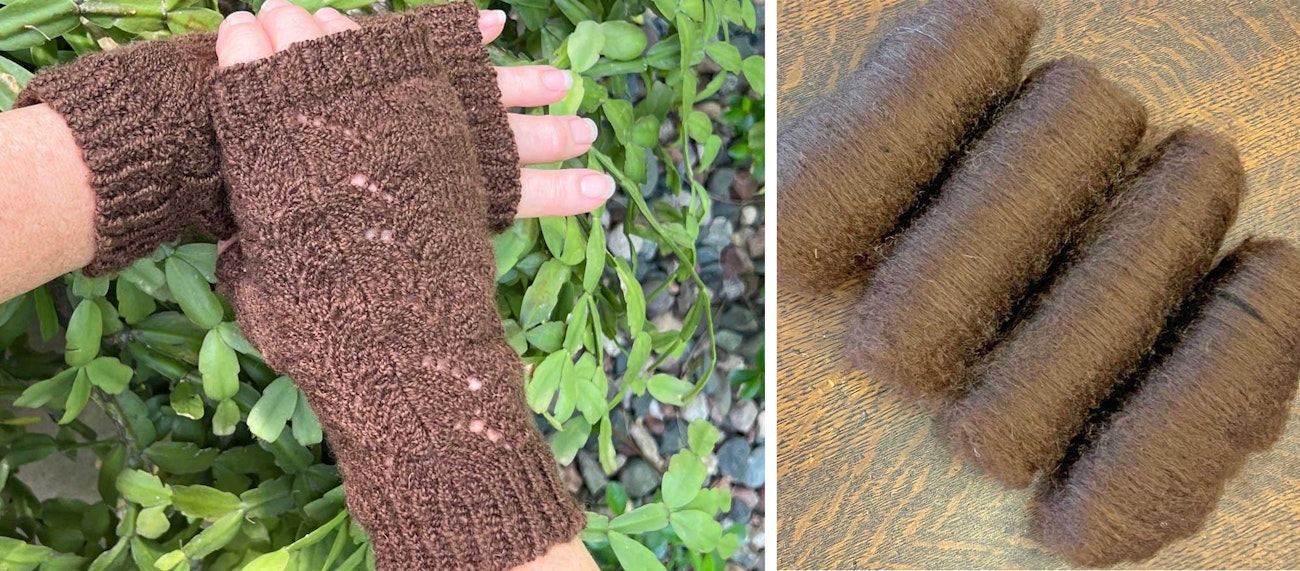 Photo by Tonyia Little
Tonyia Little, Northfield, Minnesota
I purchased eight ounces of washed bicolor Jacob fleece from a local "goat-grazer for hire," Cannon Valley Graziers. They rent out sheep and goats to manage vegetation with an added bonus of selling the fleece! Using 110 grams of mixed fleece colors and black walnuts from our property, I followed the steps in Elizabeth Fahey's "Dyeing with Black Walnuts" in Spin Off Fall 2010. The dyed fleece sat for a few months waiting for the right purpose. When I saw the Lace-along, I knew I had my project.
Those 110 grams of fleece went through my Strauch Petite carder—three times! I hadn't carded for quite some time so my technique was far from perfect. I ended with four pretty little batts totaling 98 grams. I worked to spin supported long draw on my Majacraft Suzy Pro at 9:1 ratio. Final plied stats: 18 wpi, about 1,000 yards per pound. The resulting two-ply heavy fingering yarn was a bit firmer than I intended, but I decided that was going to be just right for my half mitts, which will get some hard use outdoors.
I used a popular mitt pattern called "Cloudburst" by Arienne Gray and found the lace pattern easy to memorize. These have been great for spring camping in Minnesota. The tight ply keeps them from pilling and snagging when carrying wood or retrieving the ball from the dog.

Photo by Denise Duda
Denise Duda
For my bobbin lace project, I used Leicester Longwool locks, purchased raw. I washed, flicked, and combed the locks, then spun singles Z and plied S on my Lendrum Folding Wheel. Five yards of yarn was wound on each of the 44 vintage lace bobbins, and I wove the scarf using the bobbin-lace technique. The pattern is an enlarged version of a bookmark designed by Ann Wild from The Small Friendly Spider Book from the Lace Guild of England.
We hope you will join us for next year's Spin-along!