In January 2023 we invited handspinners to join us for a lace-themed spin-along and to make an item of their choosing using handspun and their preferred craft. From February to May, this group of makers blended, spun, knitted, wove, and crocheted while encouraging each other along the way. We appreciate their creativity and asked the spinners to share a photo and a few words about their handspun creations for this year's Lace-along. We received so many wonderful submissions that we couldn't include them all here. Stay tuned for a second photo gallery next week. Thank you to all who joined in. —Spin Off editorial staff
Margo Siebenmorgen
(Margo's finished shawl is shown at top.)
I have been knitting for over 60 years and have always loved lace. When I first started spinning in 2017, I wanted to be able to spin my own yarn in order to make a lace shawl. When I saw that this year's theme was lace, I just knew it was time to blend some fiber to knit the "Exclusive Orenburg Shawl" designed by Galina Khmeleva that I had been wanting to knit. I had recently purchased a drumcarder with a high TPI (120). I used prepared fine Shetland combed top and cashmere fluff, carefully weighing out a ratio of 75% Shetland/25% cashmere to equal an ounce of fiber. I laid down some Shetland, then actually ended up "painting" on the cashmere due to its short staple length.
I have a Merkelbach upright wheel, which was handmade in the 1970s by a Dutch woodworker named Piet v.d. Eijnden. I have heard that you need a fast whorl in order to spin for laceweight yarn, and even faster for cobweb. My wheel has only one whorl, size 7.5:1 (not considered a fast whorl); however, she will spin with me to make the most beautiful yarn I ask her to, and she did not disappoint. Together we created 1,961 yards of gorgeous two-ply lace yarn at 32 wpi—perfect for the Orenburg shawl I wanted to knit.
What I love about this shawl, other than the fact that my favorite Orenburg designer, Galina Khmeleva, created it, is that there are trees on the shawl, and the construction was something I had never done before.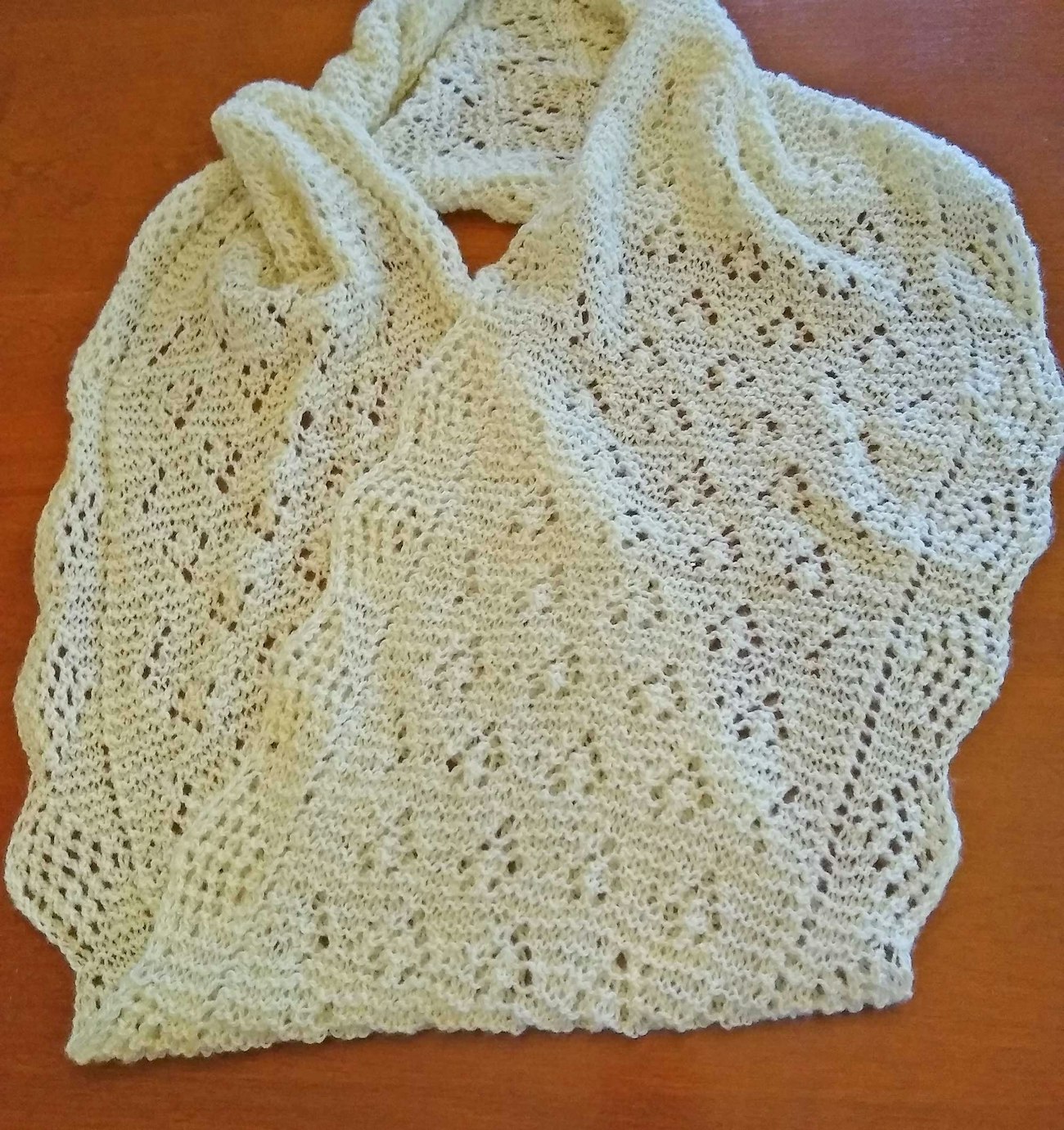 Photo by Colleen Brooks
Colleen Brooks, Pittsburgh, Kansas
I spun BFL/silk and knitted the "Shetland Lace Cowl" by Luba Chambers for the Spin Off Lace-along. I added a twist when I grafted it together to make it a Möbius strip. The fiber was lovely to spin; the silk adds shine and extra beauty to the soft BFL. I enjoyed the well-written pattern and the knitting went faster than I expected.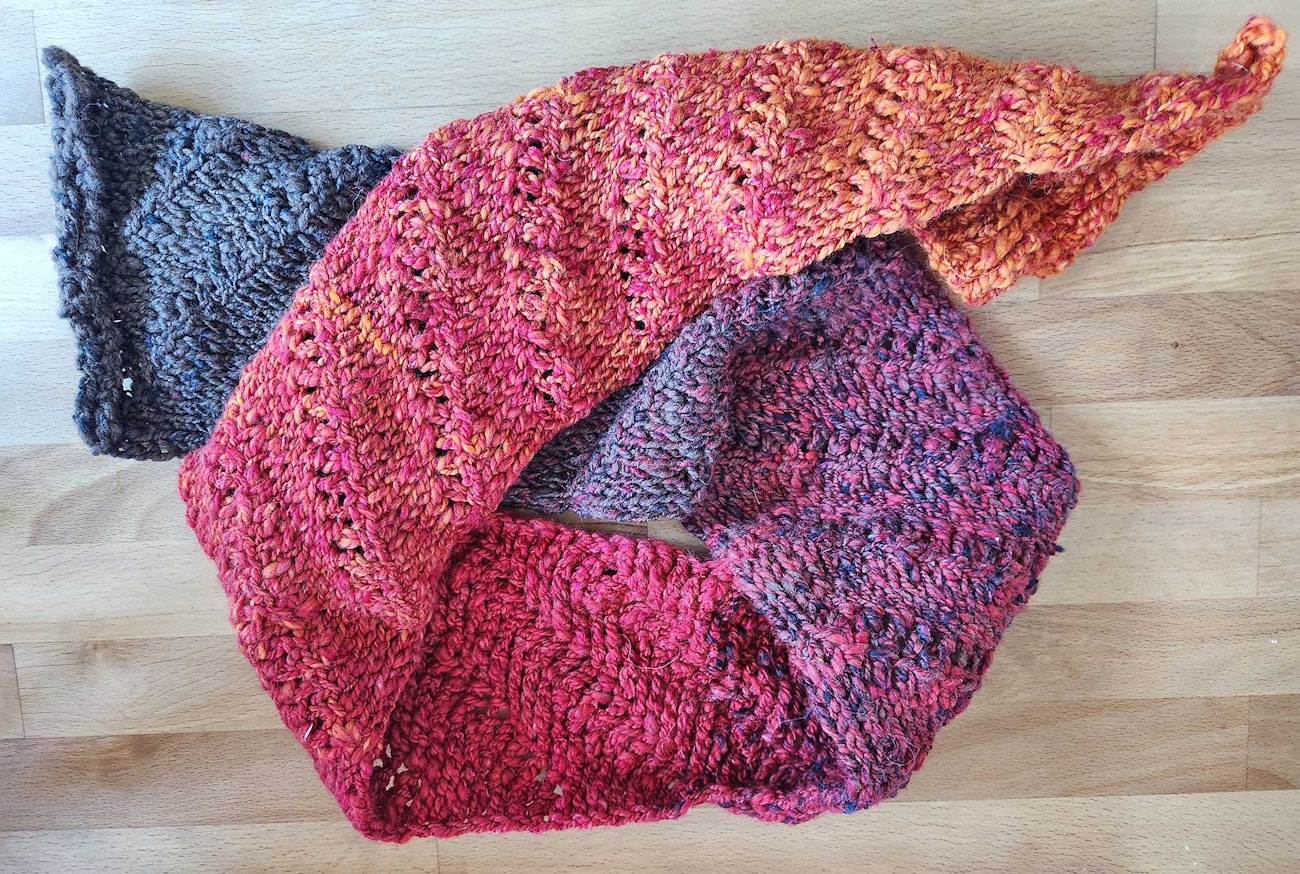 Photo by Emily Born
Emily Born
I love the spin-alongs—they are always so much fun and take me out of my comfort zone with spinning and crocheting. It's always a great challenge.
This scarf is a variation on the "Skipping Stones Cowl" by Stephanie Erin. I shortened the rows and made a long scarf rather than a cowl because I thought it would work better with the yarn I spun. The yarn is a Merino wool roving top blended with sari silk. My wonderful sister, Stefanie Johnson, blended the fiber for me, and I spun it on my Schacht Ladybug Wheel.

Photos by Jill Fry
Jill Fry, Millarville, Alberta, Canada
I'm really not much of a lace knitter, but I love participating in Spin Off's "alongs," and I appreciate being pushed out of my comfort zone by these challenges. I chose to spin a three-ply worsted-weight yarn for some soft and cozy bed socks and used a pattern from Plymouth Yarns called F651 "Lace Bed Socks." Looking through my stash of raw fibers, I decided on a blend of white alpaca and dark gray BFL, with a little fuchsia Merino thrown in for color. For the heels and toes, I added some Suffolk for more bounce. I finished the socks in plenty of time for them to warm my feet on wintery nights, and they make me very happy!
For my second spin-and-lace knit I decided to spin a light fingering-weight two-ply yarn using blue flax top, a fiber I hadn't spun before. I love this blue color, which is called Chagall, and thought it would make nice bookmarks using the "Trellis Lace Bookmark" pattern by Leigh Myers. I enjoyed spinning the flax, and it proved to be an excellent choice for this pattern as it blocked crisply yet also drapes nicely. I made two bookmarks from my 50 grams of flax, gifting one and keeping the other.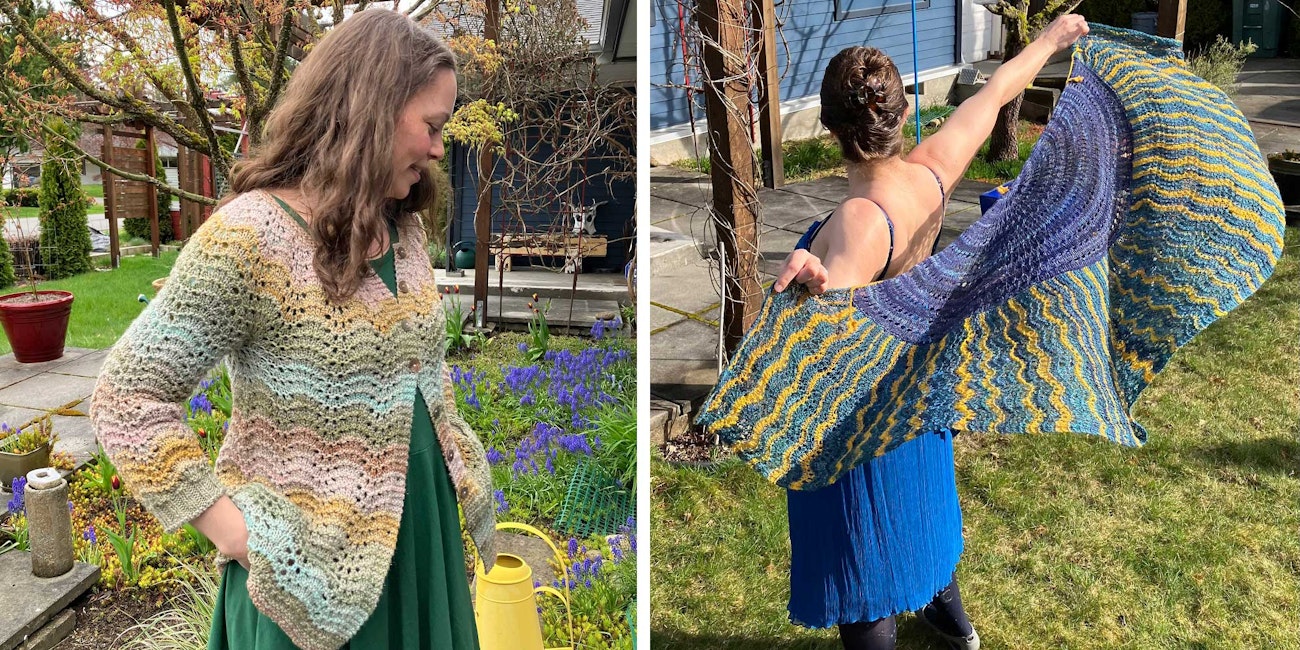 Photos by Jennifer Miller
Jennifer Miller
I created two Lace-along projects. Van Gogh's Starry Night Over the Rhône was the inspiration for this semicircular Starry Night shawl, which was also a stash-busting project. I gathered up fibers (mostly Merino, Corriedale, and silks) that were deep blues or golden yellows, plus dyed some more, to blend enough rolags for two laceweight yarns, one with a self-striping pattern for the wide border and another in a semisolid to fill in the remainder. I love how the variety of colors and fibers blended together gives a painted effect in the finished shawl.
I wanted to create an everyday cardigan that was also something special, so I started with a base of oatmeal-colored BFL and tussah silk, and then drumcarded that with Merino in all my favorite colors and plenty of gold Angelina. Not only was it a learning experience to control the width of stripes on the sleeves and body, but it is indeed a sweater that is soft, comfortable, and magically coordinates with everything I wear!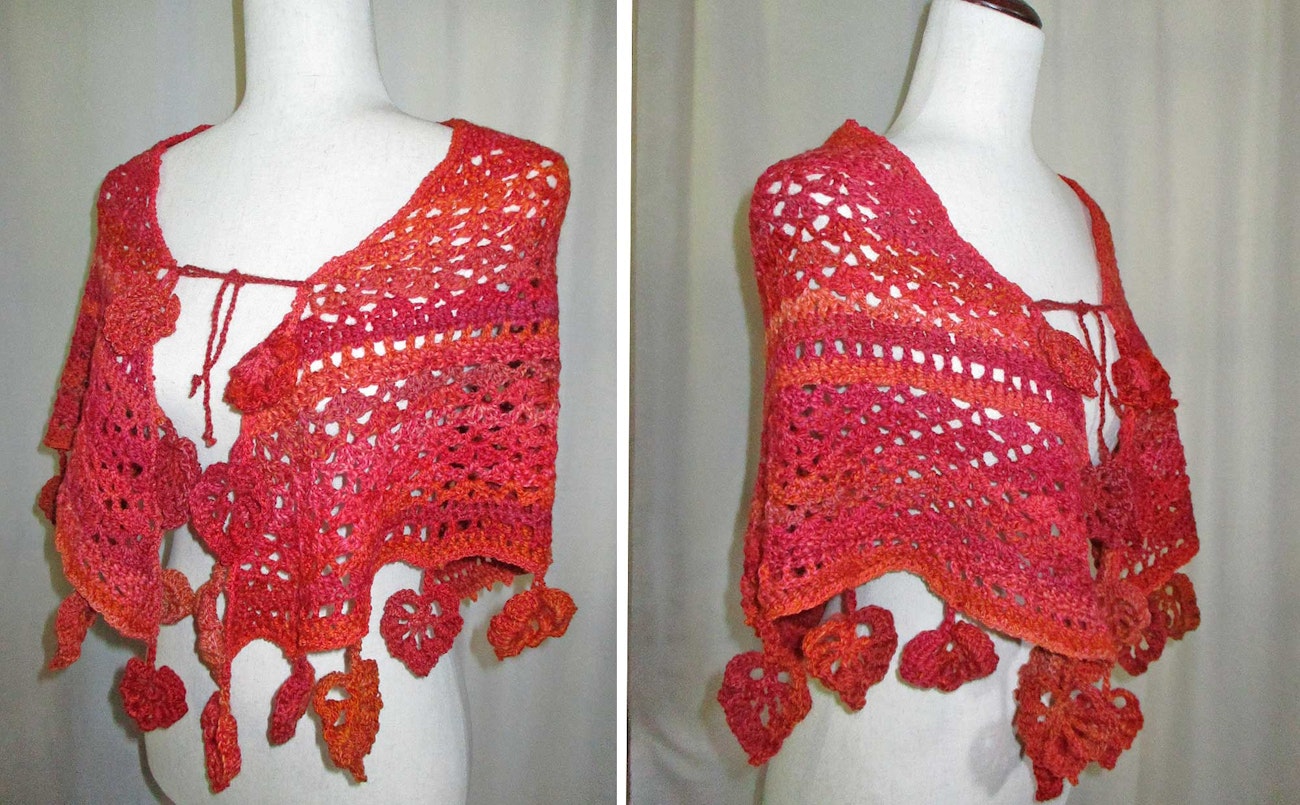 Photos by Enrica McMillon
Enrica McMillon
Each year I make a shawl to wear while spinning at my guild's event during the Forest Festival in October. I had dyed the Falkland top in autumn colors in preparation for making a shawl, but I hadn't decided on a pattern or started spinning until after joining the Lace-along and getting inspiration from the group. I had used the pattern "Erigeneia" by Silke Terhorst before and knew that it would work well for the body of my shawl, but I needed to make some adjustments to the size and create a different border. I wanted a border of leaves that would flutter, as if in a breeze, while spinning on a great wheel, but I didn't want them to hang down so far that they would get in the way of my spinning. I also added a tie to keep the shawl in place.

Photos by Elaine Fuller
Elaine Fuller, McKinleyville, California
Here are the wrist warmers that I spindle-spun and knitted for this year's Lace-along. The fiber was a stash-busting miscellany of wools and wool/silk blends, combed on mini combs and spun semiworsted on several medieval spindles from a small, handheld distaff. At one point, I ran low on the white yarn and quickly had to spin up a bit more. I had a wonderful time participating!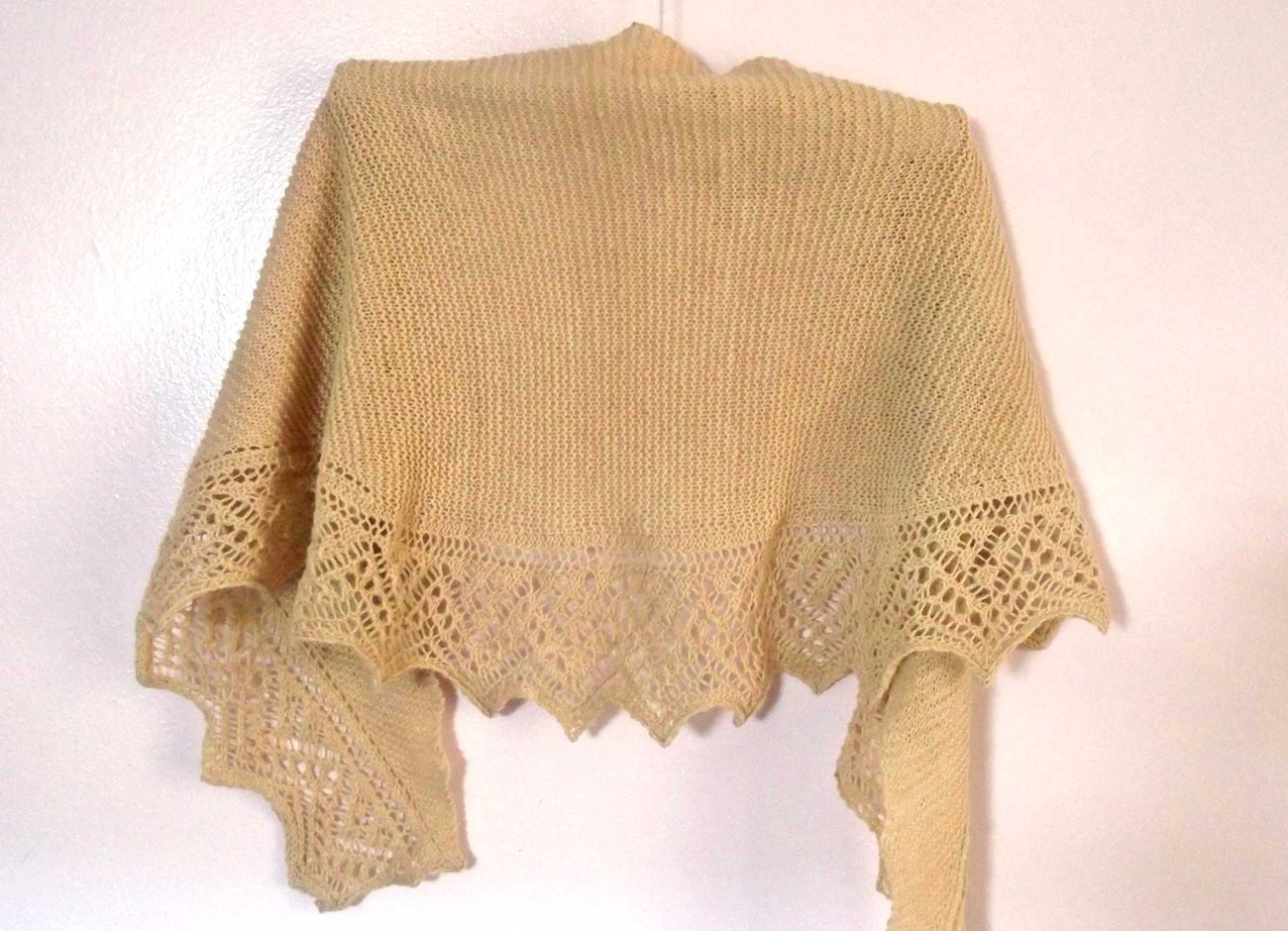 Photo by Cheryl Bieber
Cheryl Bieber, Saskatchewan, Canada
I knitted the "Pyrope Shawlette" pattern by Heather Zoppette from Spin Off's Lovely Lace eBook. I spun Merino that I died in the wool using avocado skins (the first time I've tried this). I used a drop spindle to spin the singles and then used a wheel to ply them into a three-ply yarn.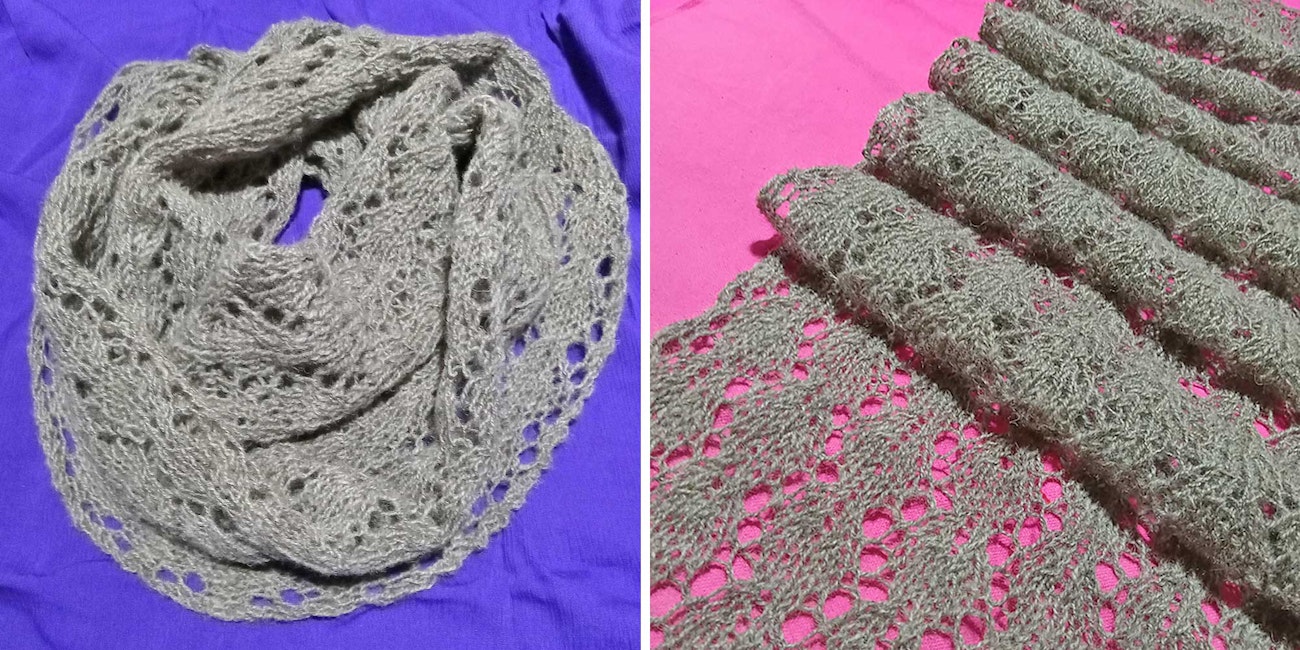 Photo by Barbara Rusnacko
Barbara Rusnacko
When I attended a spinning retreat in Kansas in 2019, I met someone who raised Romney sheep and had brought along bags of delightful milled roving for purchase. I spun a two-ply fingering-weight yarn in a natural gray color on a Kromski Sonata and found a free pattern on Ravelry called "Periwinkle Lace Infinity Scarf" by Undeniable Glitter – Alyssa. I used a US size 7 needle, as suggested, but made my version a little wider and shorter than the original. I loved the whole process, and it's been so fun to make along with other spinners!

Photos by Joanne Mitchell
Joanne Mitchell, Manitoba, Canada
The fiber I chose for my handspun woven towel was a natural super fine flax top from Louet of North America (plus a small amount of bleached flax sliver for the stripes). I spun the singles with an S-twist and plied with a Z-twist. After spinning, there were a couple rounds of boiling and then freezing outside to soften the linen, which helped lighten the color, too. The draft for the towel is "Pure Delight Towels" from the Jan/Feb 2015 issue of Handwoven magazine (an Atwater-Bronson lace pattern). I used a sett of 20 epi and used 360 ends (14 threading repeats). I used a five-foot warp and had just enough for one towel that measures 12" x 31.5". I have been using the towel for a few months and am impressed with how absorbent and soft it is. It's hard to believe when I started spinning straw that it would turn out like this!
Click here to see even more finished pieces from the 2023 Lace-along in Part 2 of our series!