With the years seeming to get busier, I set an easily achievable goal for myself for the 2023 Spin Off Lace-along: to spin a 3-ply sock yarn and knit the Green Lake Socks pattern by Kristi Schueler. My original plan was to draft green sari silk and Leicester longwool locks alongside one of the plies to add some pops of green to my spin, but just before the spin-along started, I decided to blend the green fibers into carded, dizzed roving instead for a smoother spin.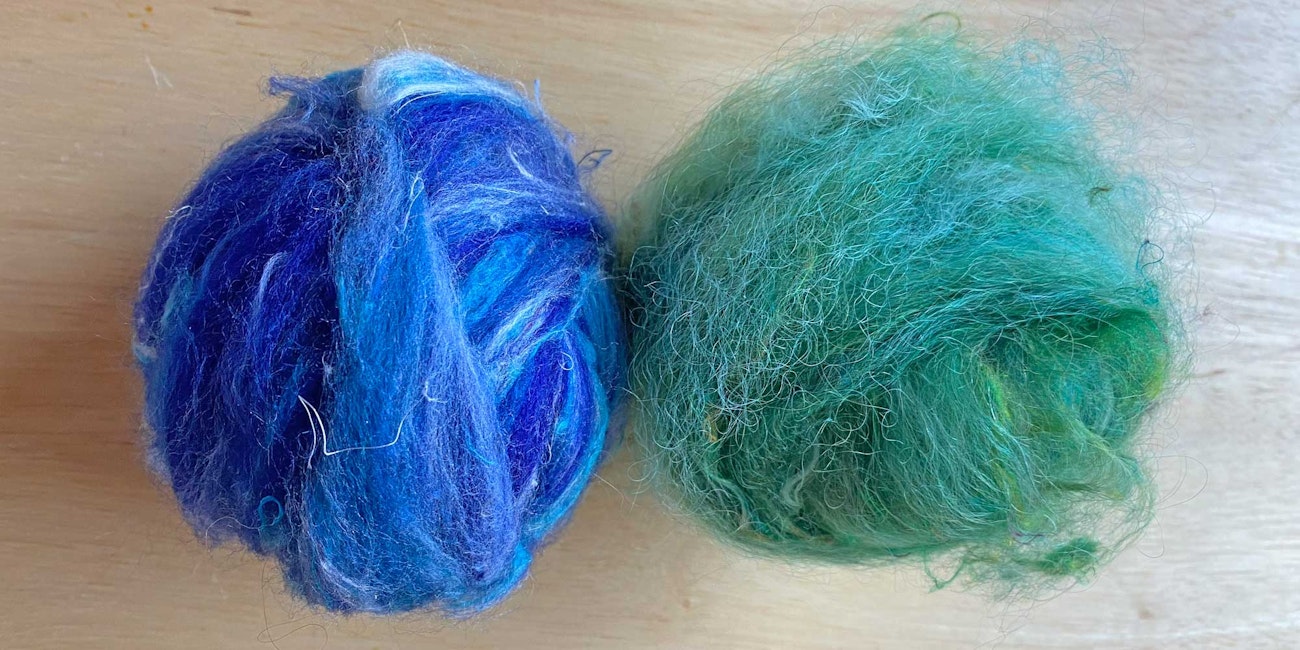 Stefanie's carded and dizzed roving, ready to spin
My handspun yarn turned out beautifully (below, top left). I was able to spin 449 yards of vibrant, consistent 15 WPI traditional 3-ply yarn with a lovely sheen, thanks to the silk and longwool content. I had a few yards left over on two of the bobbins and ended up chain-plying those for an additional 59 yards. I was so pleased with my yarn that I knit the socks up in 10 days (below, top right) while starting another spin. These annual spin-alongs really jump-start my wheel every year. The second spin I began is another 3-ply sock yarn; this one is 66% natural creamy white Bluefaced Leicester and 34% silvery gray Lincoln longwool. I was aiming for a light silvery colored yarn for a cable-knit sock that will have some lace holes in the mock cables along the instep (below, bottom).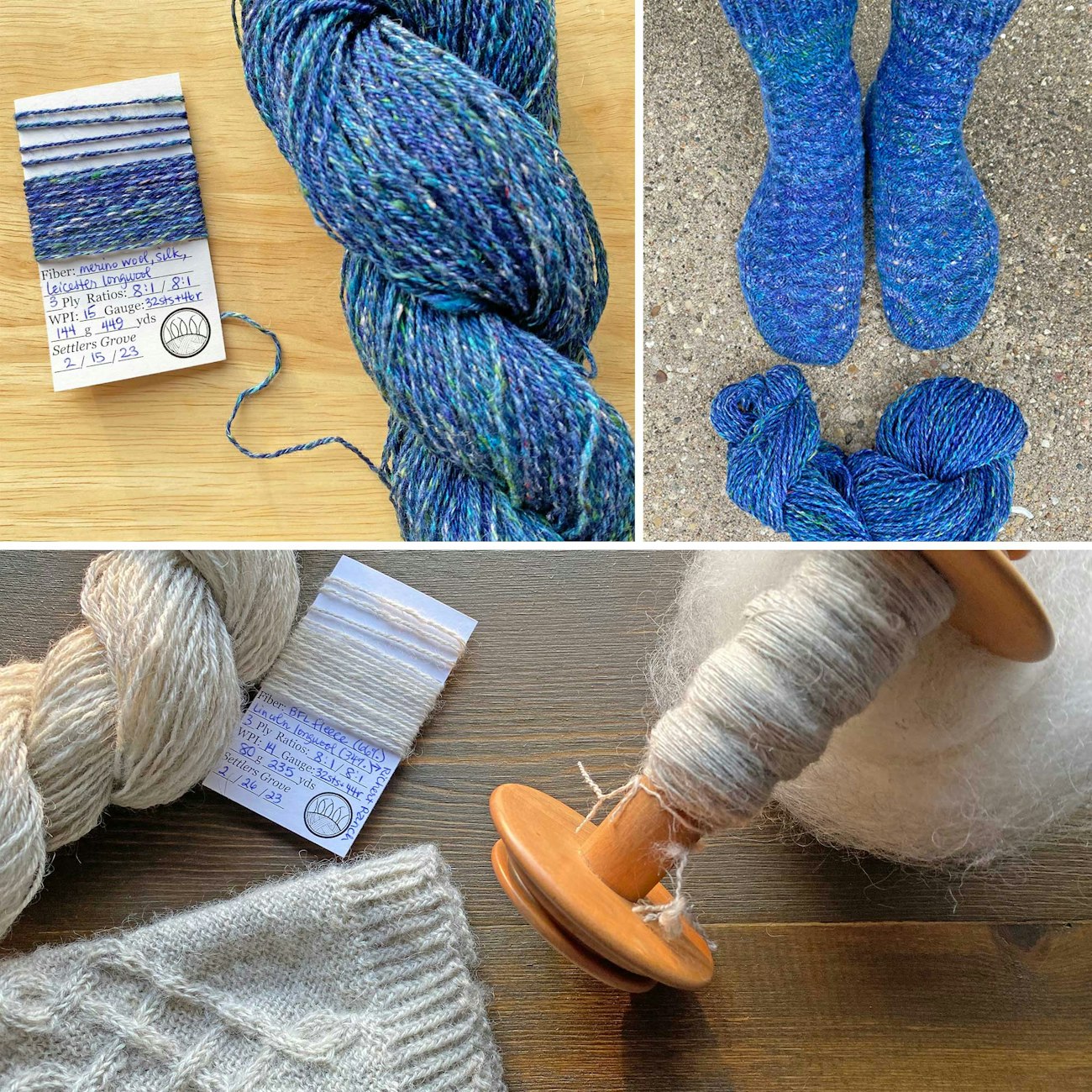 Clockwise from top left: Stefanie's first sock yarn shows lovely bits of green; the finished Green Lake Socks, knitted from the toe up; her second sock yarn combines BFL and Lincoln longwool for socks with white and gray tones.
It turns out that the Fall 2007 issue of Spin Off that featured Kristi Schueler's sock pattern was the first publication in my ever-growing collection of spinning reference books and magazines. I remember how excited I was to find a magazine that had such a wide breadth of articles and projects related to my new hobby, as I was eager to learn everything I could, and I learn best by doing. I learned to spin on a drop spindle in October of 2007, and quickly knew I was hooked. I purchased my Schacht Ladybug spinning wheel soon afterward, during the introduction to spinning class I took at Esther's Place, a local fiber arts studio, and asked Natasha to show me how to chain ply my first skein of wheel-spun yarn. I have no fear when learning something new—skills or not, I jump in and try things! I love chain-plying's utility in plying leftover bits of singles and will often use those on the cuffs of my socks since the cuffs are not subject to abrasion (I have read that there is some evidence that the little bumps in the chain can be weak spots in chain-plied yarn).
My fellow spinners have posted some gorgeous handspun lace projects in the Ravelry Lace-along forum, from bookmarks and bed socks to delicate scarves and shawls. We have discovered new-to-us designers and explored all that "lace" encompasses, redefining lace and making it accessible to all. I was inspired by the conversation around lace weaving and found a balanced windowpane pin-loom square on Pinterest and gave it a try. Won't you stop in and share your thoughts on lace?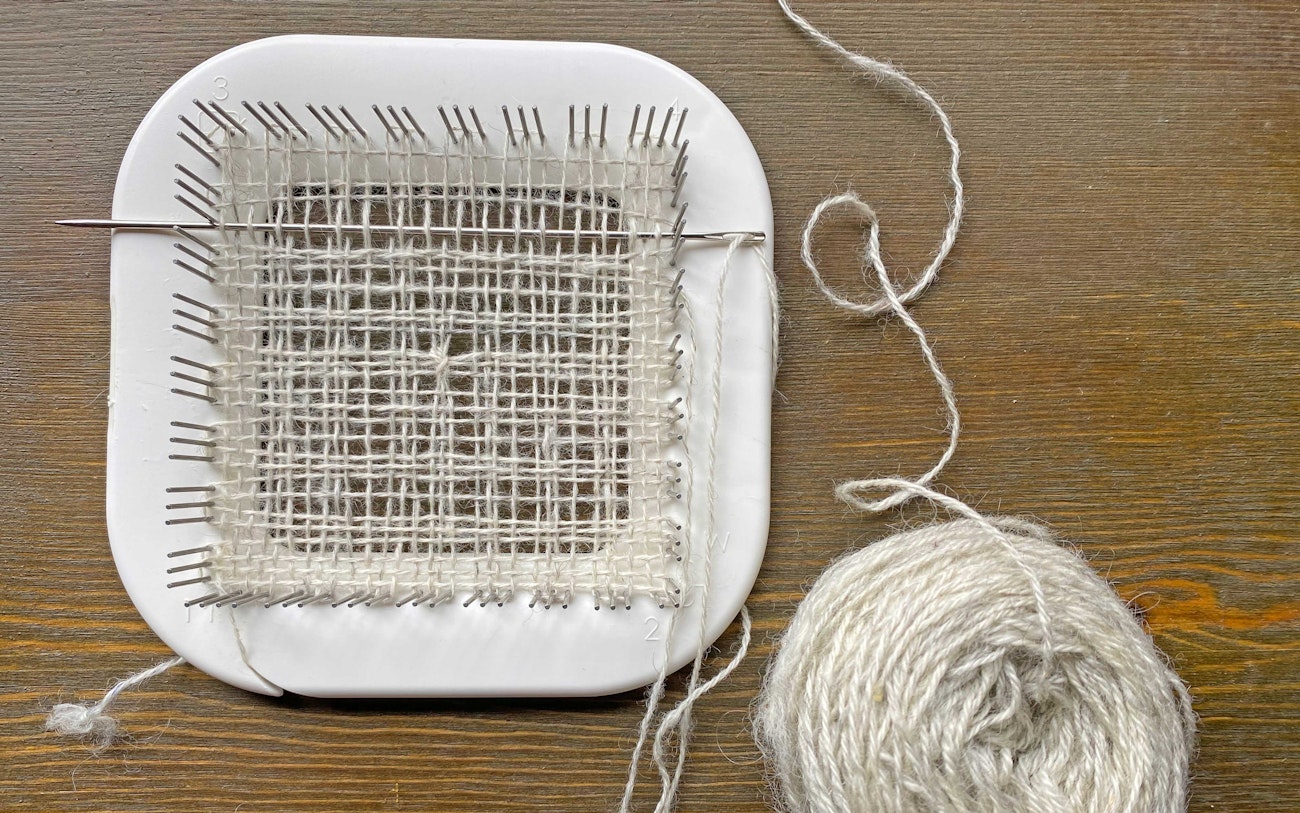 Stefanie was inspired to try this pin-loom square after following some of the conversations on Ravelry.
The Lace-along continues through May 1, 2023, so if you're curious, pop in to the Spin Off Knitters & Spinners group on Ravelry. We'd love to chat with you and see what sort of lace might inspire you to get back to your wheel this spring! And be sure to post your progress on social media using #spinoffmagazine, or share photos of your completed projects with the editorial team via the Spin Off email address.
When Stefanie Johnson is not protecting public health through environmental inspections and communicable disease investigations, she enjoys teaching others to spin, knit, and weave. The Johnsons raise French Angora rabbits, honeybees, and a variety of chickens and ducks on their hobby farm, Settlers Grove, in Illinois. More of Stefanie's work can be found in Knitty, Knotions, and on Etsy and Ravelry.