Spinner and weaver Caroline Foty knows a thing or two about antique spinning wheels. The pleasure of spinning on an antique wheel and the desire to know its maker is what led Caroline to research Canadian Production Wheels, or CPWs. These wheels can be found in the homes of some lucky spinners as well as some museums and study collections, such as the Marshfield School of Weaving Study Collection. Caroline explains, "Canadian Production Wheel is a nickname for the large tilt-tension antique spinning wheels associated with the province of Quebec, in eastern Canada. Because my mother had Quebec ancestry, I had done genealogical research in Canadian records." Through her research, Caroline learned that spinning wheels were deeply woven into the culture of Quebec.
While our staff was working on Caroline's article for the Winter 2023 issue of Spin Off, we came across some remarkable images of CPWs in the Marshfield School of Weaving's textile equipment collection. The collection, formally known as the Marshfield School of Weaving Study Collection, was formed in 2019 as a nonprofit educational organization in order to "preserve the traditional textile tools used to produce handwoven textiles and to instruct students and scholars in the use of such tools." In addition, the Study Collection provides scholarships to students studying traditional tools and skills at the Marshfield School of Weaving.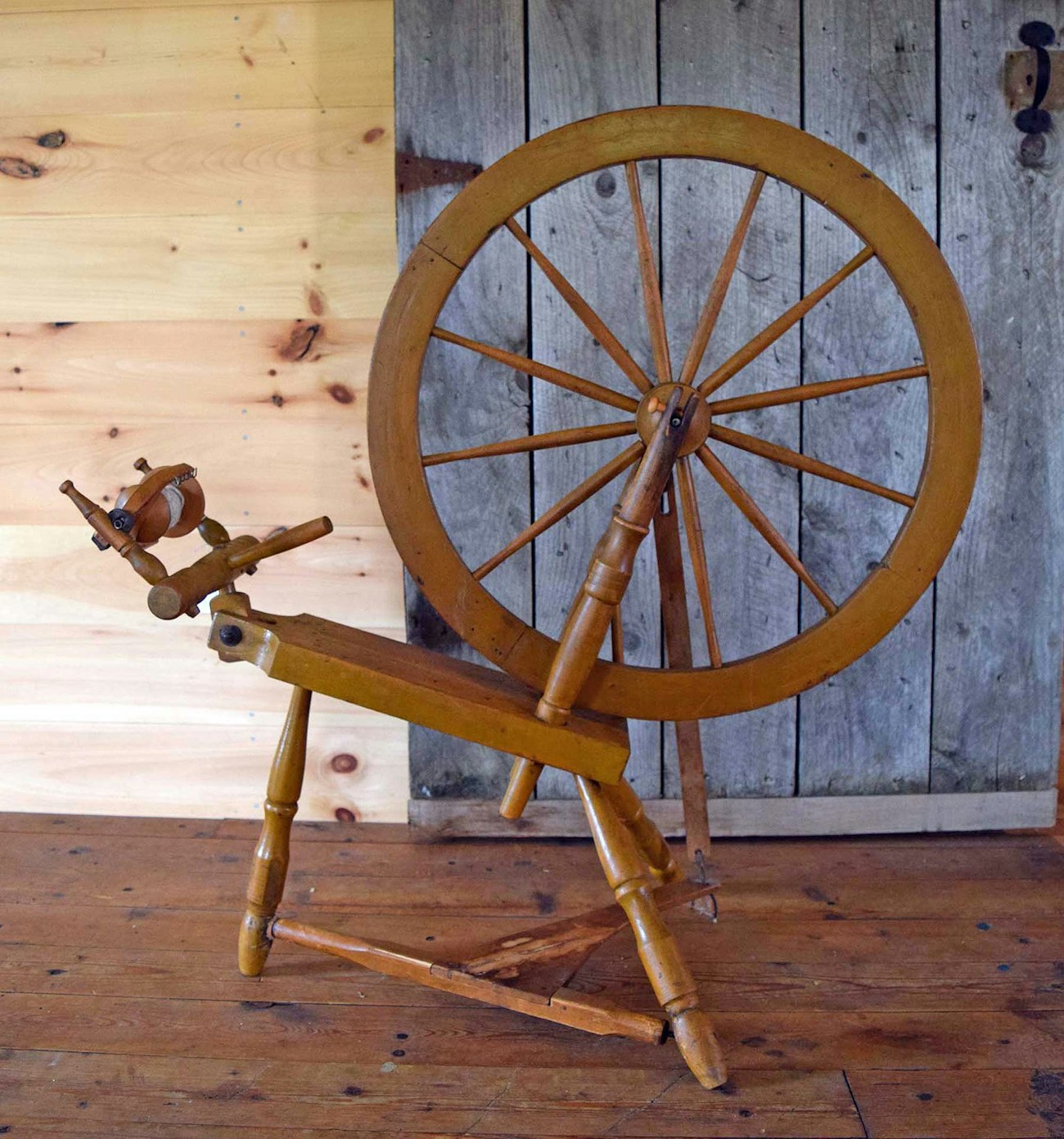 1991.178.92 - Spinning Wheel, Canadian Production, Paradis; Marshfield School of Weaving - Textile Equipment Collection, accessed March 8, 2023 via Marshfield School of Weaving's Omeka database
The collection at the Marshfield School is quite vast. According to the Marshfield School of Weaving website, "The Collection houses tools de-accessioned from the American Textile History Museum, which were donated to the Marshfield School of Weaving and are now cared for by the Study Collection." Educational opportunities are offered for study and research through the Marshfield School of Weaving and the Marshfield Center for Textile Research. Individuals have been working to log the tools and other artifacts into a database, and though still an ongoing project, much of the collection can be accessed through the database known as Omeka.
One of our favorite items that we came across on the Omeka site is a Paradis CPW manufactured in the late 19th to early 20th century. The website offers the following description: "A tapered rectangular table rests on three splayed legs. The treadle board is set into pivoting rod between two legs. A flat, narrow footman connects the treadle to the drive wheel axle. The mother-of-all, with a handle on the lower bar, is attached to a block in a notch in the table, which is tensioned by a metal screw with a nut. The bobbin/flyer is complete and is designed for a doubled drive-band."
Find out more information and see more photos of this wheel and others on the Marshfield School of Weaving website.
And read Caroline Foty's article, "Canadian Production Wheels: From Their Hands to Ours," in Winter 2023 Spin Off.
Also, remember that if you are an active subscriber to Spin Off magazine, you have unlimited access to previous issues, including Winter 2023. See our help center for the step-by-step process on how to access them.
Debbie Blair is the associate editor of Spin Off magazine. A lifelong crafter and avid reader, she finds her happy place reading and relaxing next to a mountain stream.