Kristin Nicholas is the author of 10 books on knitting, stitching, and craft, as well as dozens of knitwear patterns. But Kristin's first publication was in Spin Off Summer 1983, where she not only published two articles but was also the cover model.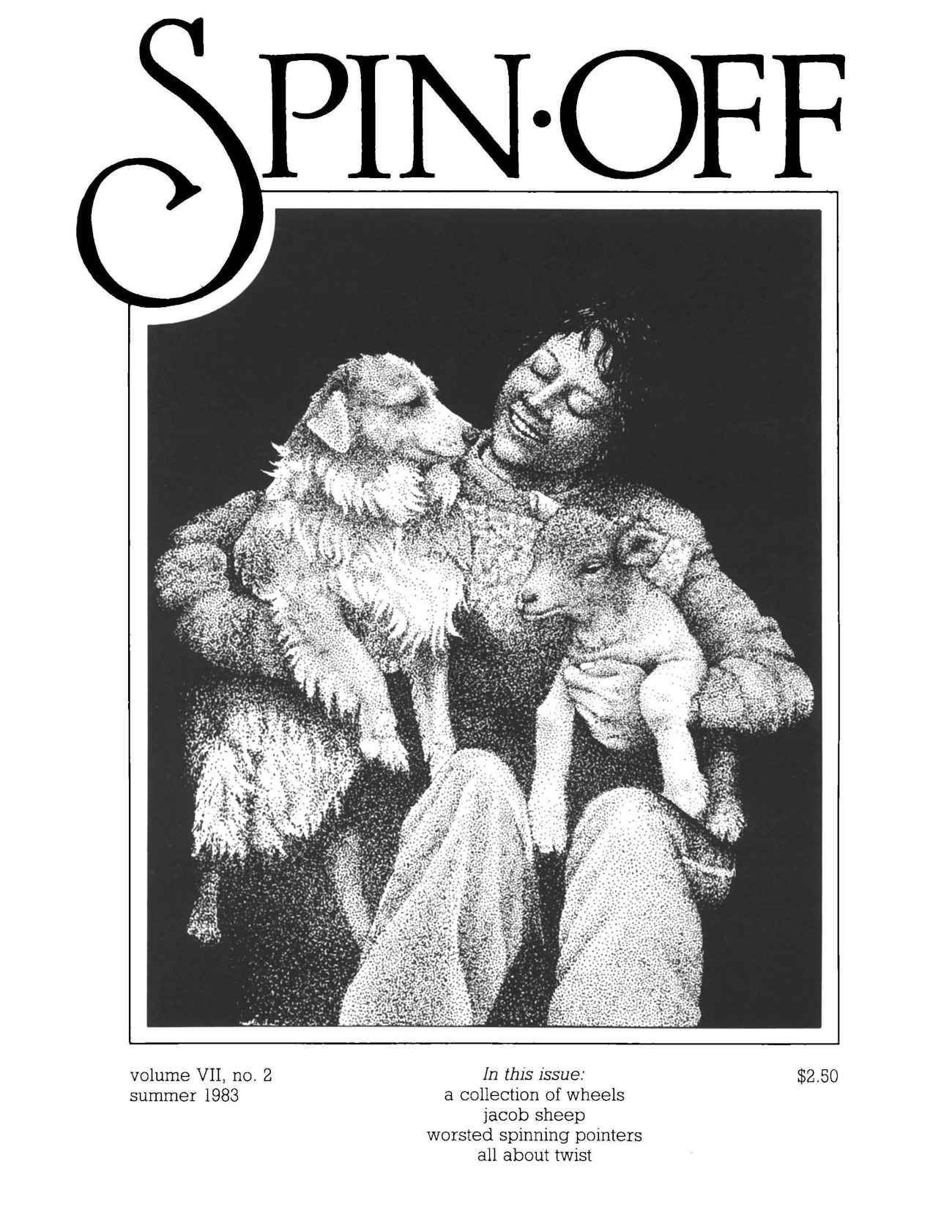 In her essay "How Much is That Spinner in the Window?" Kristin told the story of how she found herself as a holiday window display. The winter after finishing graduate school, she met the owner of a shop called Landau's, which imported sweaters and other wool goods from Iceland. Learning that she was a fiber artist, the owner asked her to demonstrate carding, spinning, and weaving to attract passersby during the holiday season. With no paid job in sight, she agreed, driving to the shop each day and sitting in the window.
Although the window-dressing gig didn't come with a paycheck, it did pique the interest of Linda Ligon, who asked her to write the article for Spin Off. In the same issue appeared an article about her graduate work at Colorado State University, "Wool Production from Small Flocks of Sheep."
Kristin sat for an informal portrait for the issue, holding her dog in one arm and a lamb in the other. The photo came out so well that Linda used a hand-drawn version of it on the issue's cover. "Still have it," Kristin says. "I have it in our little lamb shack where we sell our meat, and it's on the wall in there."
Click below to read the full article.
Kristin Nicholas is the guest on the September 9, 2023 episode of the Long Thread Podcast.
Spin Off Summer 1983 is available as a digital issue here. Also, remember that if you are an active subscriber to Spin Off magazine, you have unlimited access to previous issues, including Summer 1983. See our help center for the step-by-step process on how to access them.
Anne Merrow is Editorial Director and a cofounder of Long Thread Media.