It felt a bit like Christmas morning when I opened the box of tools that Spin Off contributor Amy Tyler shipped to our offices for the Fall 2023 issue's photo shoot. Amy wrote the article, "The Many Uses of Flick Cards" for our annual tool issue and loaned us her diverse collection of flickers and other tools.
Inside the box were both square and rectangular versions, with a variety of handle shapes and sizes. As Amy explains in her article, a flick card is a fiber-preparation tool that's used to open up locks of wool so they are ready for your next step, whether that's washing, carding, combing, or spinning. Use of a flick card leaves the wool fibers in a mostly parallel orientation, but the "openness" of the flicked fibers and the amount of debris that can be removed is dependent on the technique used.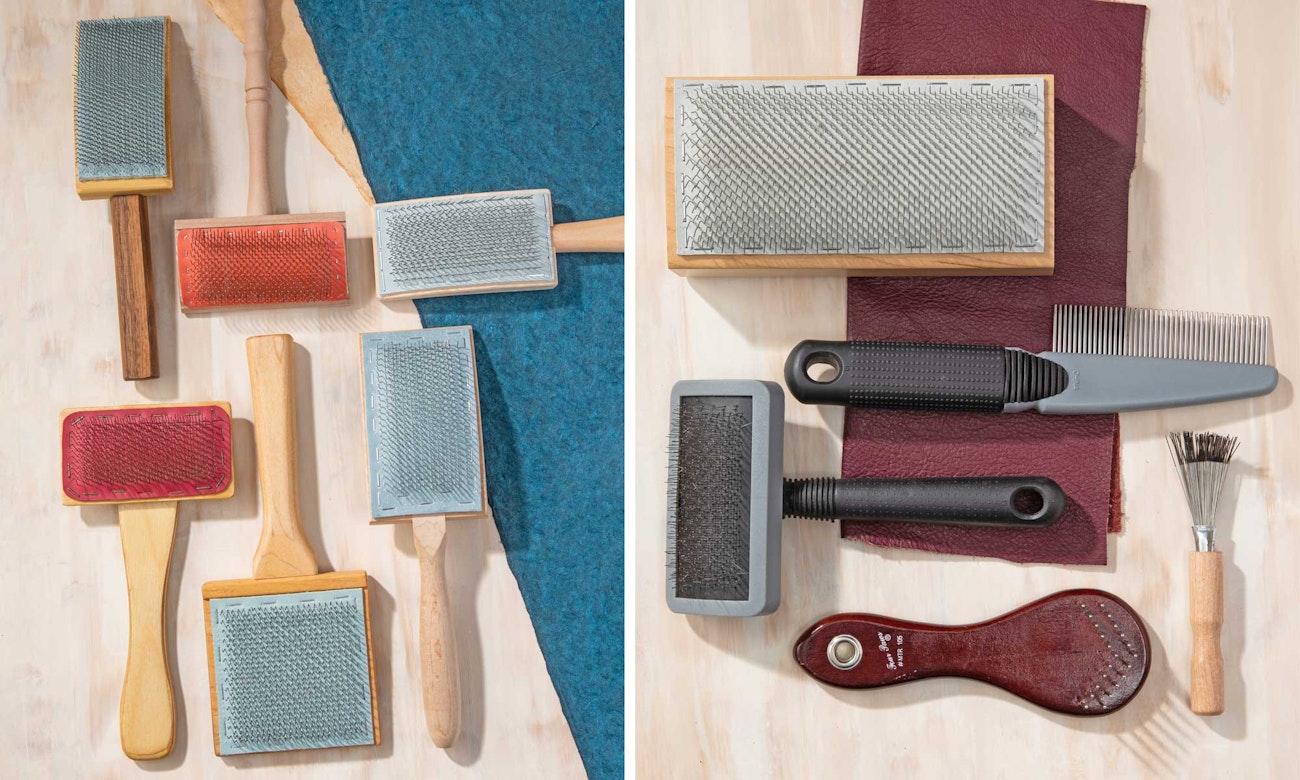 Amy's flick-card collection (left) and other accessories and alternative tools (right). Photos by Matt Graves
Amy provides a great examination of techniques for using a flicker to prepare your locks for many uses: washing, drumcarding, spinning textured yarns, or spinning smooth yarns. New to flick cards? Along with Amy's Fall 2023 Spin Off article, you'll want to check out these other great resources:
"Flick Carding" by Carol Huebscher Rhoades
According to author Carol Huebscher Rhoades, no matter what your purpose is for flick carding, the one phrase to keep in mind throughout the process is "light and easy." Carol describes her favorite flick card and shows the reader how to separate and flick locks with easy-to-follow photos.
Read Carol's article here.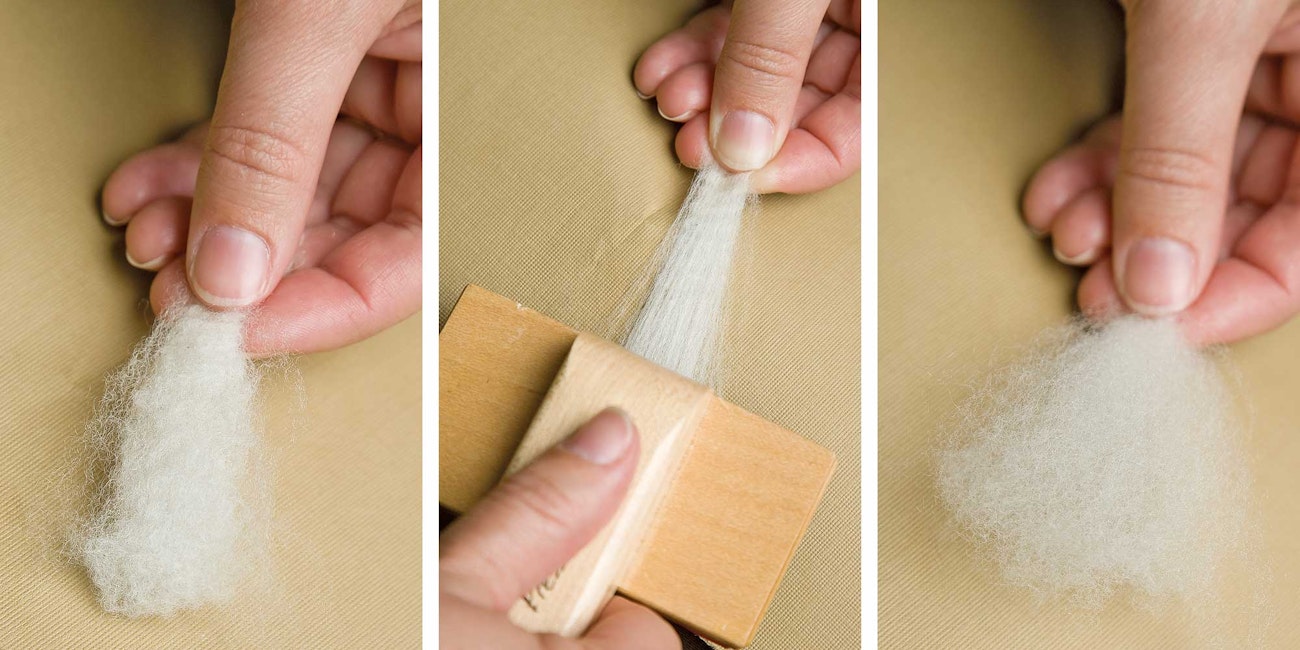 Carol opens the ends of the locks by hand and uses the flicker to flick downward into the lock with a quick wrist motion, resulting in a fan of separated fibers. Photos courtesy of Carol Huebscher Rhoades
"Flicking and Combing Painted Locks" with Kate Larson
Planning a handspun, Fair Isle knitting project? Spin Off editor Kate Larson explains the difference between flicking and combing locks, plus shares her tips for preparing dyed wool locks for a smooth, worsted-style yarn.
Click here to read Kate's article.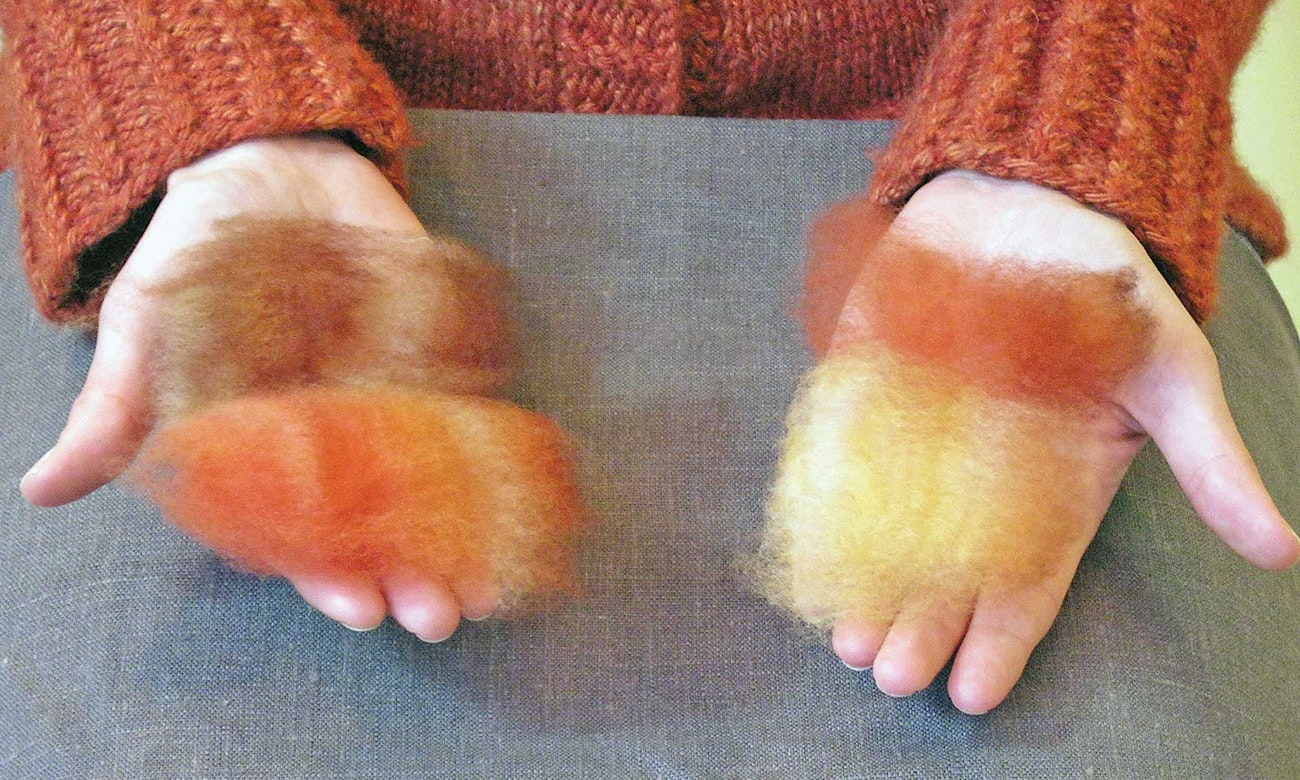 Kate displays her combed locks on the left and flicked locks on the right. Photo by Olaf Larson
"Angora Goats and Mohair: Flicking Mohair" by Kathryn Ross Chastant
The Fall 1983 issue of Spin Off is all about mohair. Kathryn Ross Chastant offers an in-depth discussion of mohair production and uses and provides her processing and spinning tips, which include photos of her flicking process using a flicker she calls a rake.
Find the Fall 1983 issue here.
Kathryn demonstrates her flicking process. At left, the teeth of the rake show as she prepares to flick a lock; at right Kathryn flicks the locks to loosen the matted parts and reduce noils and neps. Photos courtesy of Kathryn Ross Chastant
Sarah Anderson's "Flick Carding"
Sarah Anderson, author of The Spinner's Book of Yarn Designs, describes why she would choose a flick carder if she could choose only one tool to prepare fleece for spinning into yarn, and she explains how a flicker can transform a less-than-perfect fleece into the perfect spinning fiber.
Sarah's article can be found in Spin Off Fall 2013 here.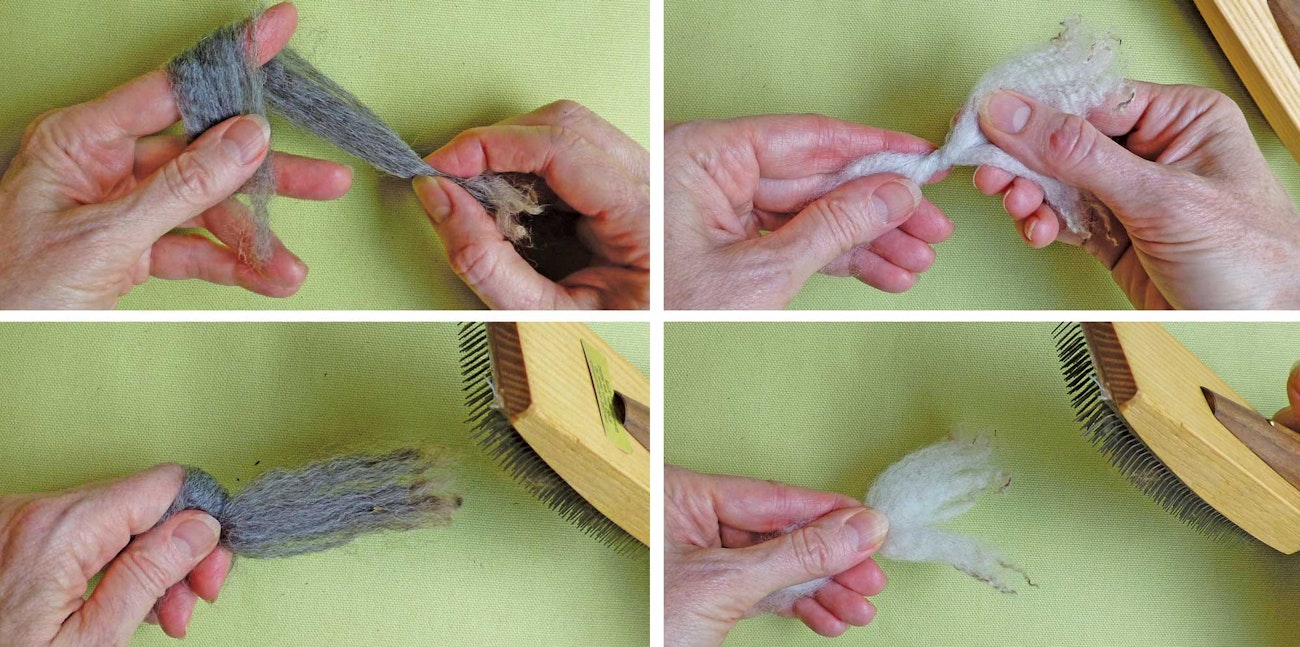 Sarah demonstrates different ways to hold the lock of fiber when flicking: wrap grip (left) and twist grip (right). Photos by Sarah Anderson
Also, remember that if you are an active subscriber to Spin Off magazine, you have unlimited access to previous issues. See our help center for the step-by-step process on how to access them.
Debbie Blair is the associate editor of Spin Off magazine. A lifelong crafter and avid reader, she finds her happy place reading and relaxing next to a mountain stream.