Do you love the look of visible mending but feel like you need some help getting started? Darning looms are a great way to corral your mends and help you get the hang of the darning process. But one of the biggest challenges for menders is finding the right yarn. Obviously, handspinners have that sorted! With a bit of fiber, we can quickly create mending yarns in any size, twist, or grist. I'll give you a few of my favorite spinning tips from Spin Off's Summer mending issue!
What Is a Darning Loom?
Darning looms—often referred to by the vintage brand name, Speedweve—tension warp threads as you weave a small patch. Some looms have a mechanism that flips hooks left or right to change the shed to make weaving faster. The warp threads can be continuous or separate, as they are here. Using separate threads allows more colors to be used during warping, and it also allows the warp-thread tension to be adjusted during weaving. I'll show you how to warp both ways in a video below. But first, let's talk yarn.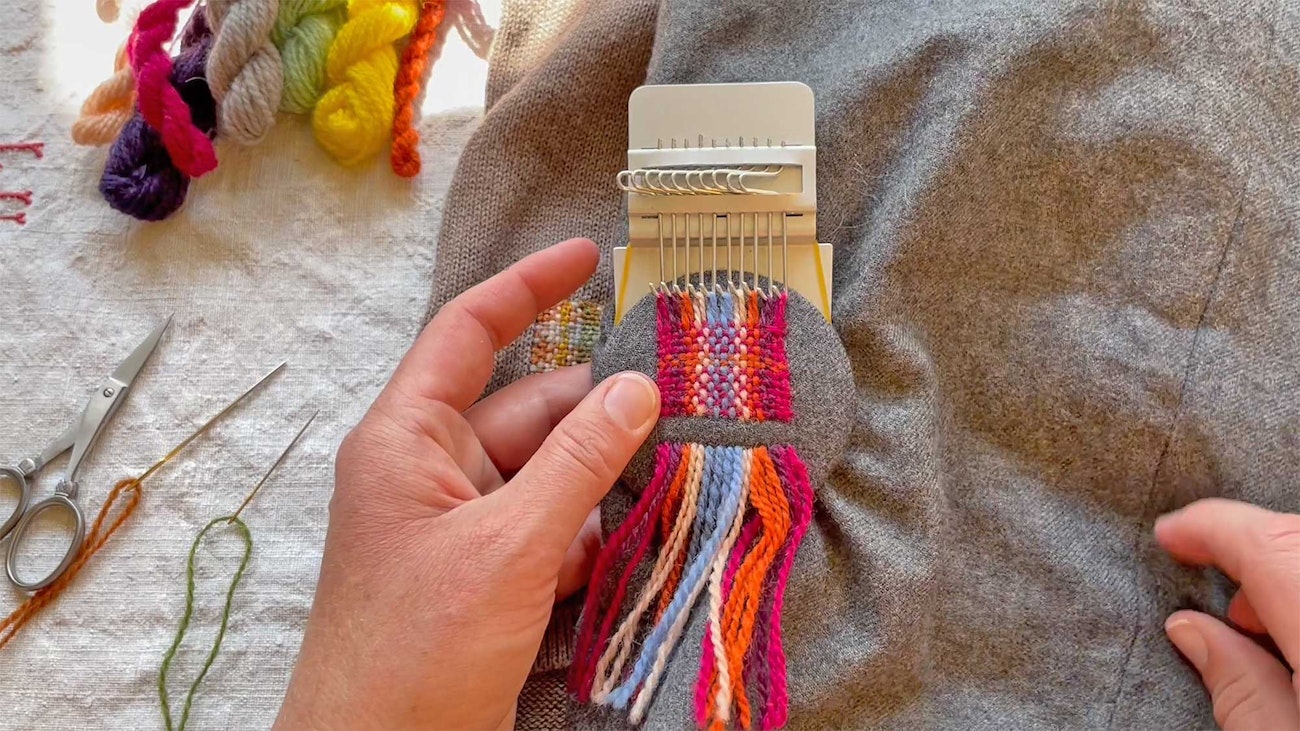 Leftover yarns as short as 6 inches can be used for mending, or you can spin a few yards of several colors to create a new mending palette. Photo by Long Thread Media
Spinning for Mending
High-Twist Yarns, Durable Mends
Madeline Keller-King's new Spin Off article, "The Handspun Patch: A Spinner Explores Darning Looms," explores two very different styles of looms on two different fabrics: denim and a fine-knit cardigan. In both cases, Madeline's mends needed to be durable and strong. She used Polish Merino from Kromski (more on that below), silk, and cotton—all spun with a firm twist to create yarns that can stand up to abrasion and tension. She also found that the high twist created smoother yarns that didn't get snagged on the loom's hooks.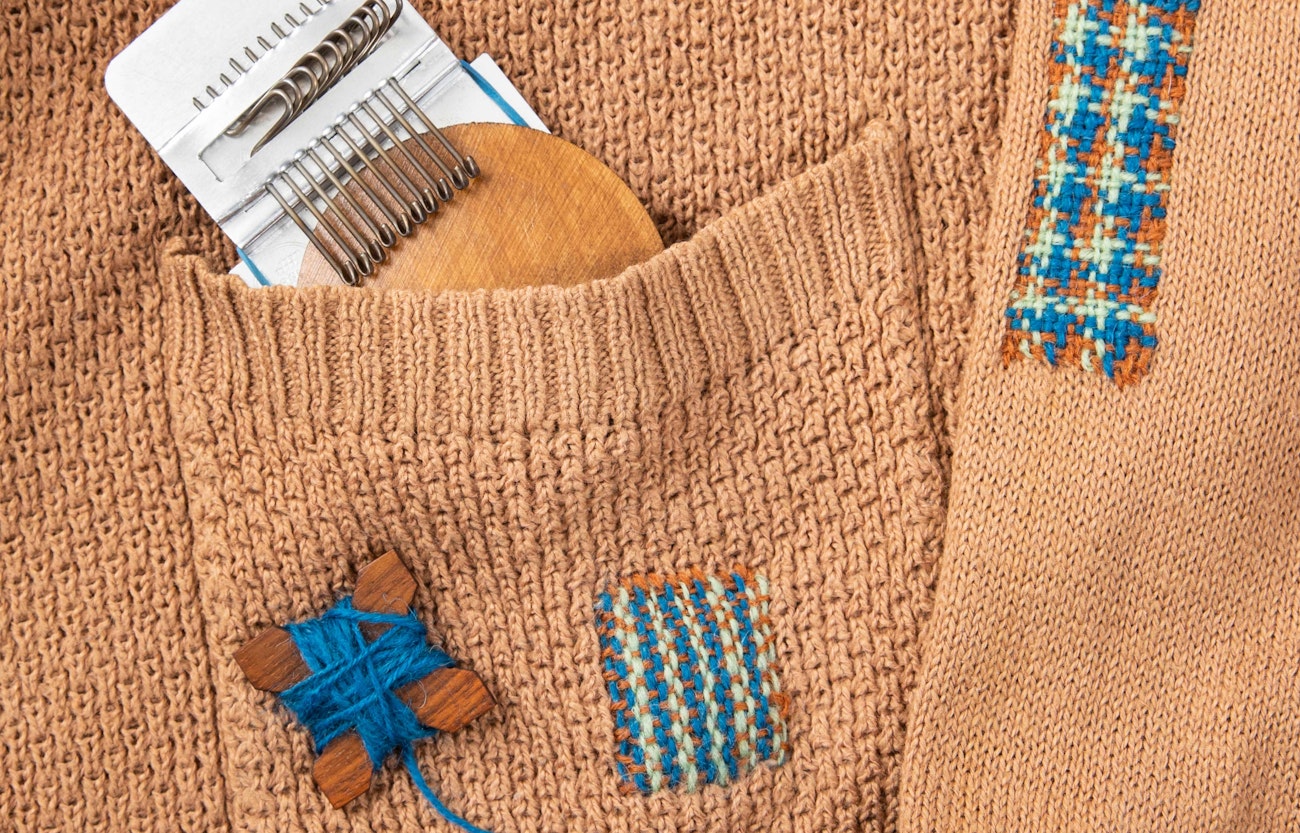 Spin Off contributor Madeline Keller-King mended her sister's beloved cardigan with two different mending looms: pocket patch woven with an Alexon Ver Speedweve-style loom (shown) and sleeve patch woven with a Katrinkles Bigger darning loom. Photo by Matt Graves
Gauge
Speaking of hooks, Miriam Felton shared a great spinner's hack for adapting a darning loom to the larger-gauge yarn she wanted to use. Most mending looms are based on vintage designs that used fine yarns (think fingering and laceweight yarns). When mending her handknitted cardi Miriam wanted to use a handspun DK-weight yarn, so she skipped every other hook on the loom.
Strong Fibers, Soft Twist
Yes, it works! Not all mends need to be indestructible. If a woven patch is going to cover a moth hole or stain, it might not be in the area of the garment that receives much abrasion. On the cover of Spin Off, you'll see a mend that uses yarns that have a medium twist. The fiber is Polish Merino combed top from Kromski, and this wool is not as fine as most Merino. It has a tooth and strength and crimp that make it ideal for creating mending yarns that are medium or even low twist. Less twist means that the crimp has more space to open up and create loft, which means that it results in a darned patch that is softer and melds into the original garment more effectively. Give it a try!
—Kate
Learn more in Spin Off Summer 2023, our "Mend, Renew & Make Do" issue!
Kate Larson, editor of Spin Off, teaches handspinning around the country and spends as many hours as life allows in the barn with her beloved flock of Border Leicesters.