E-spinners have been around for years, and they continue to grow in popularity as more models become available. From the Hansen miniSpinner to the Electric Eel, there is an e-spinner available for everyone interested in going electric.
While happily drifting among the many booths at the Wisconsin Sheep & Wool Festival in 2018, I saw two different e-spinner models for sale. I stopped in for a chat with two experienced spinners about their favorite e-spinners.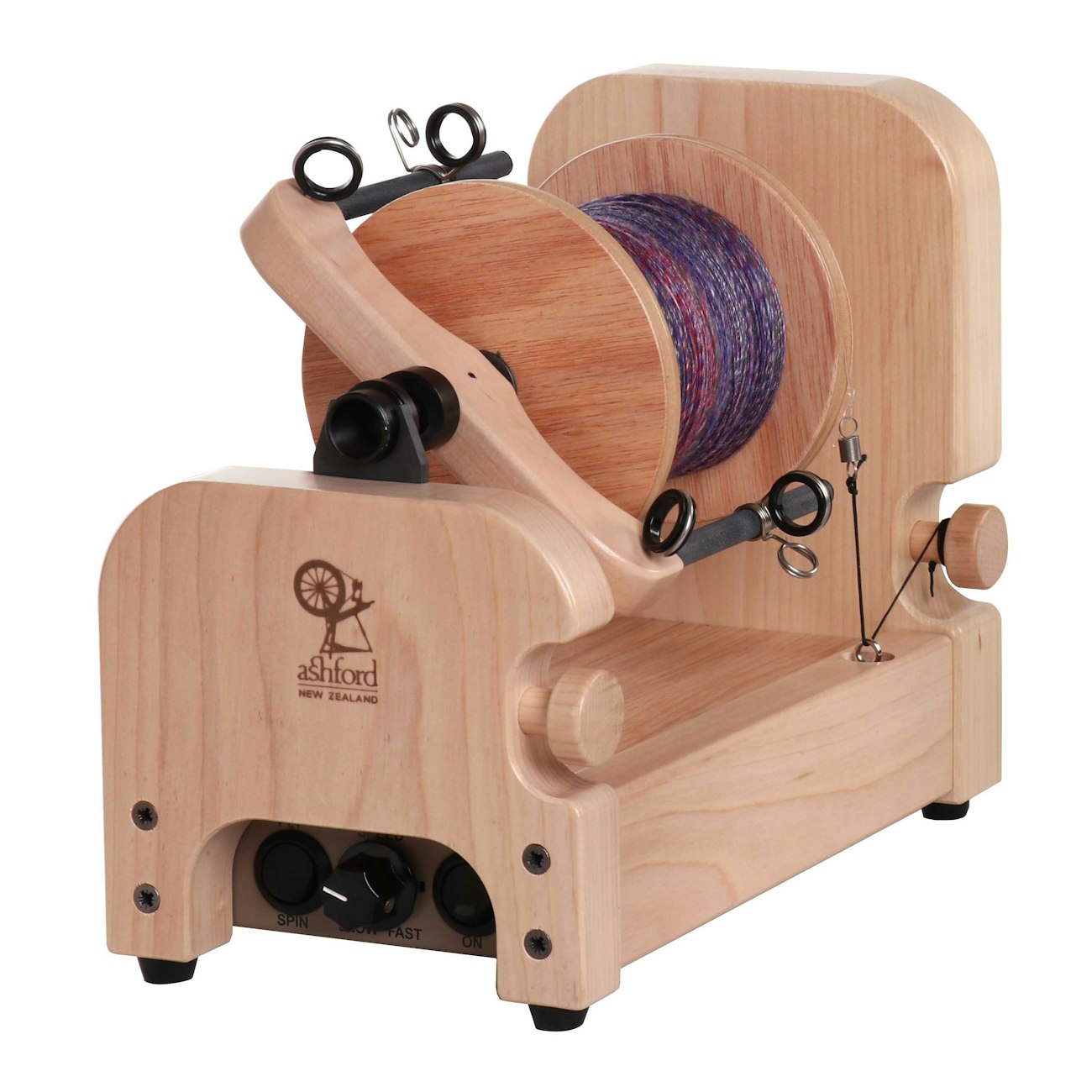 What is your favorite thing about the Ashford e-Spinner 3?
I like how quiet it is. I can turn the spinner on and off with ease, and I also feel the tension is very responsive. Most of all, I love its size and how quiet it is. I feel Ashford has got this spinner right; I love spinning on the e-3.
When would you use this spinner rather than a wheel?
The e-3 is so great with its easy-carrying bag that holds everything you need. I added a neat 14-hour battery pack to it, and now I can spin anywhere. I like to use it for all my spinning going to guild and on trips, perhaps because we have had so much rain this year, and I worried about my other wheels getting wet and damaged.
What types of yarns do you like to spin on the e-3?
I feel the e-3 does all weights great. My customers have proved that to me. In Ohio, I sold one for long-draw laceweight. When I spin laceweight, I can get tons of yards on the bobbins, and I can do art yarns because of the no-hook system by Ashford.
SpinOlution Firefly eSpinner. Photos courtesy of Spry Whimsy
What is your favorite thing about the SpinOlution Firefly?
First and foremost is the battery; you can use it while it is charging. Some battery systems do not allow this. It lasts for about 12 hours of continuous spinning and can be transported in your carry-on or checked bag for flying—always a concern with batteries these days.
I also love the Firefly's 'foot pedal' control. I use this term loosely because it is actually a simple tap closure. Spinners with various handicaps and disabilities can function the switch by putting it under an arm or thigh as well as traditionally with a foot or toe. We work with a lot of spinners who have mobility issues.
When would you use this spinner rather than a wheel?
I love the kickstand. I like to use it when going to a stadium event when the kids are participating in something and I know there will be room on a bench in front of me in the bleachers.
What types of yarns do you like to spin on the SpinOlution Firefly?
Everything! Due to the extremely variable speeds and different size bobbins available, the Firefly can spin very fine, short fibers to very thick art yarns. The smallest bobbin is 8 ounces, and the largest is 64 ounces. I think this may be the most versatile e-spinner on the market.
The new generation of e-spinners is helping handspinners to work in new ways. Where does your e-spinner take you?
Kate Larson is the editor of Spin Off and spends as many hours as life allows in the barn with her beloved flock of Border Leicesters.
This article was published October 10, 2018; updated June 2, 2021; updated March 20, 2023.