Following local custom, an Austrian woman named Berta Pumberger-Windhager received a chest of flax strick and a trunk of handwoven linen at the time of her marriage in the 1940s. Berta did not spin the flax but treasured it, and after her death, her son wanted it to go to a good home. Christiane Seufferlein received the fiber, which she decided to share with other spinners. (Read Christiane's account.) Christiane formed a Facebook group called Berta's Flax.
As word got around, other families who had similar trunks of flax began sharing them, and Christiane offered this bounty to the global community that was rapidly coming together on the Facebook page. I encountered this group and eagerly signed up to purchase some of this treasure.
Flax grown and processed by people whose skills have become rare is a once-in-a-lifetime find. This is my opportunity to spin fiber of a quality I would never be able to experience with modern flax, which is processed commercially or by people who are relearning techniques.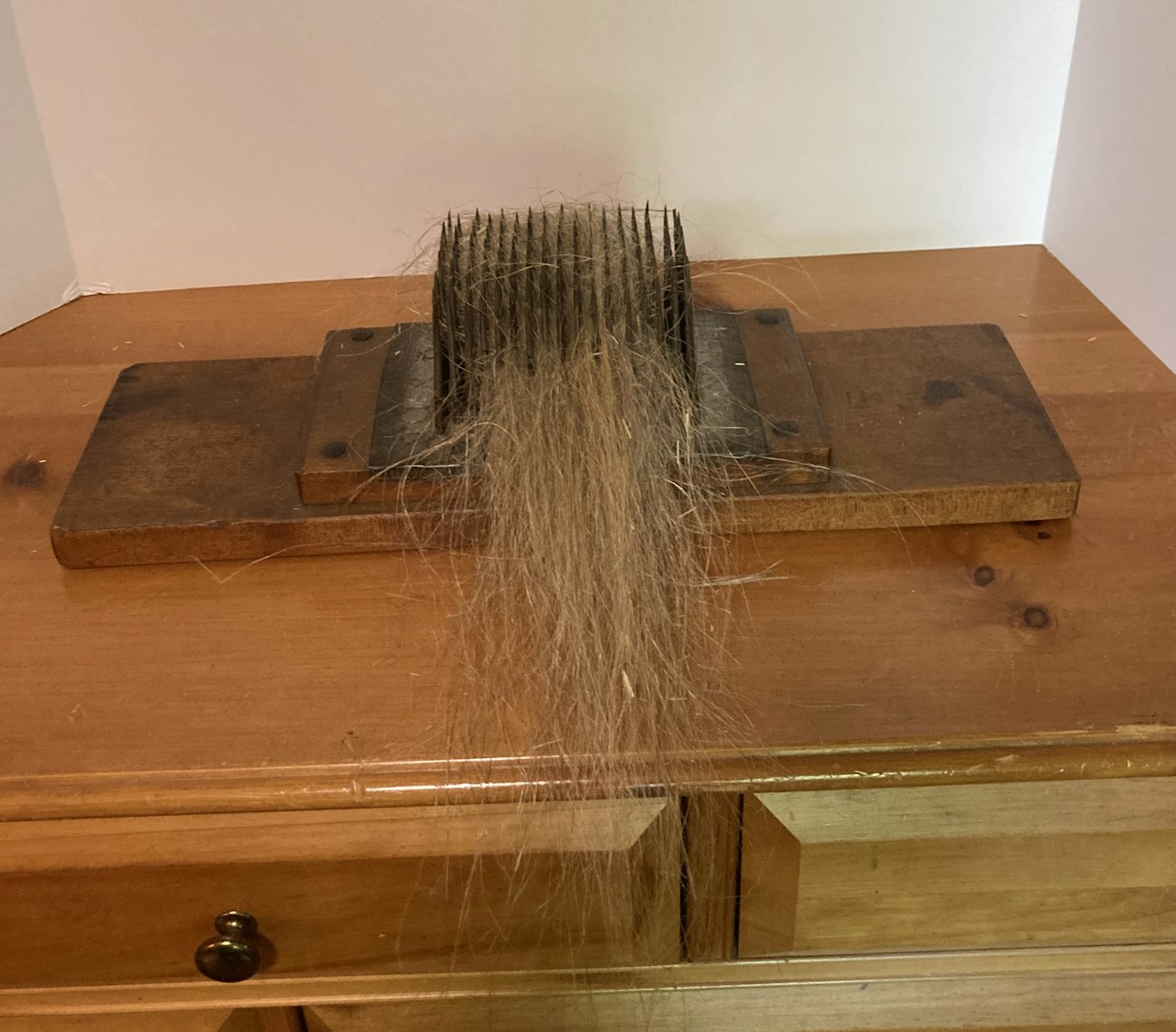 I asked Christiane what the Berta's Flax project and community meant to her.
"What this project means to me? Berta's flax is like I suddenly got magic skills. With this historic flax I can travel back and forth in time, give people a voice that have been long gone by honoring their work. I can cross borders and travel all around the world with this story, I can revive a craft that has been sleeping for a long time, and I can make people see their heritage and traditions and textile culture in a new light, maybe. Berta's flax is connecting people, places, and generations, and that is amazing!"
The Finest Flax I'll Ever Spin
When compared to the flax I received from the Berta's Flax project (mine came from a woman name Rosa), even the finest strick in my stash was not as fine or soft. I am so eager to spin with this and truly test my flax spinning skills on fiber whose quality I will likely never encounter again. I am so excited to be part of this global project.
I plan to weave singles cloth from the flax I receive. Christiane has been posting photos of vintage handspun and handwoven linen she is encountering through this project, and I was particularly struck by a duvet cover woven of bleached and indigo linen. This fabric has an honest beauty. This is the fabric I have always dreamed of making: practical, celebrating the material it is made of, suited for its purpose.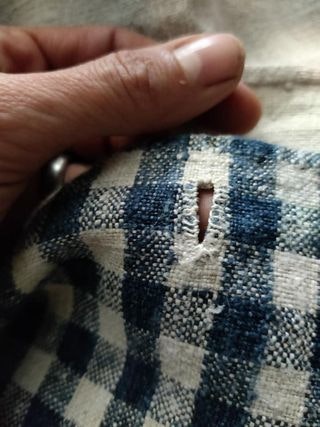 Practice Makes Pillowcases (and Aprons and Shirts)
To prepare for spinning the treasure from the Berta's Flax project, I pulled out some strick from my stash and began practicing. As you can see from the photos, flax strick can come in various qualities. The finer the flax, the finer the thread you can spin.
For the flax I am spinning as practice, I have two plans: The coarser yarn spun from the coarser flax will be woven as singles and probably used to make an apron. The finer flax from my stash will be woven as singles, and I hope to use it to make pillowcases. Linen is a hard-wearing fabric well suited to hard use, and I love using linen pillowcases, which are cool in summer and comfortable in winter. I look forward to dreaming while my head is on handspun and handwoven linen.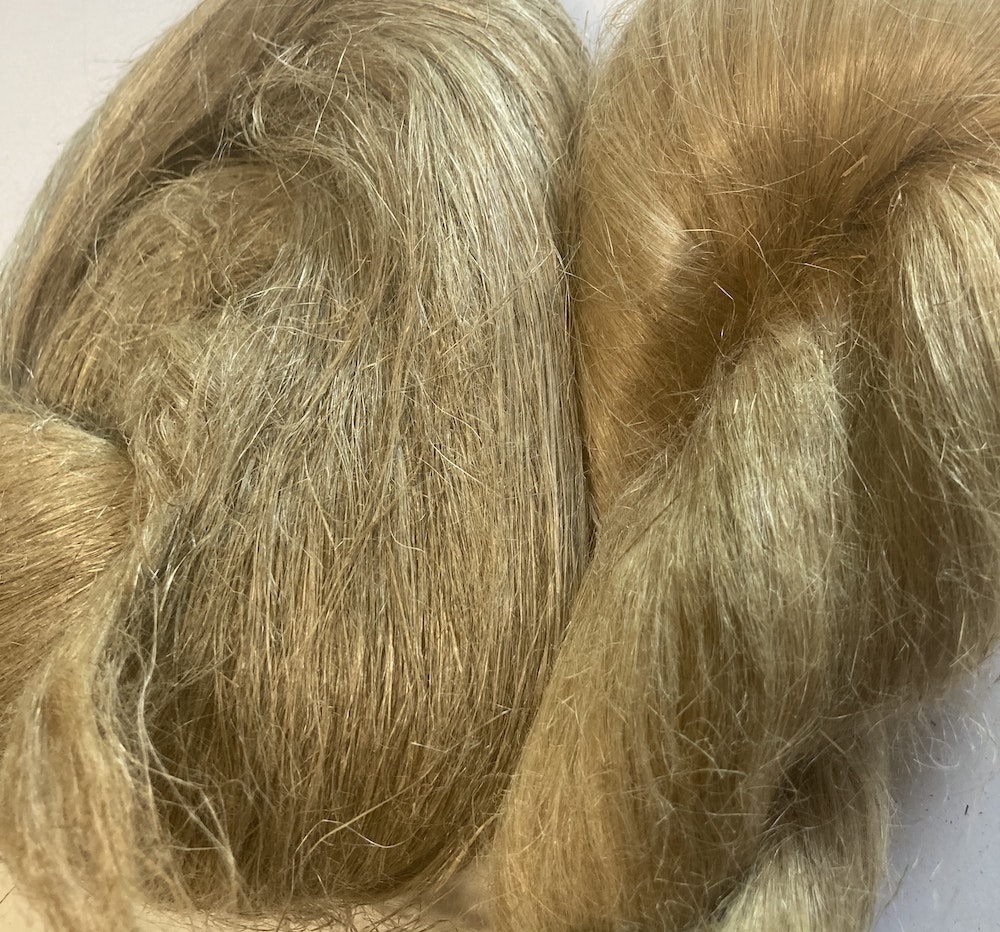 For the exceptionally fine flax I received from the Berta's Flax project, I plan to spin as fine a single as I can, then weave it and make a shirt. A handspun, handwoven linen shirt is something that people have worn for thousands of years, and as a spinner with an interest in history, it is almost irresistible to make something so deeply ingrained in our clothing and textile history.
Flax is traditionally spun from a distaff. I am lucky enough to have one, and I am experimenting with various ways of dressing it to see which works best.
To learn more about preparing and spinning flax, I recommend The Practical Spinner's Guide to Cotton, Flax, Hemp by Stephenie Gaustad. I also have found it very helpful to search online for videos or images of flax being spun historically. There are many styles of distaves and of dressing them. Experimenting is the best way of finding out what works best for you—the spinner.
Devin Helmen has been immersed in fiber since learning to spin at age 8. They spin, knit, and weave in beautiful Minnesota. Devin enjoys writing and teaching about fiber arts and has a passion for spindles and everyday textiles. They blog, intermittently, at afewgreenfigs.blogspot.com.