Subscribe to The Long Thread Podcast:

In the early 1970s, a lively community and spirit of fearless exploration sprang up in Northern California that sent ripples around the country and shaped the world as we know it today. The fiber world, of course. Stephenie Gaustad—spinner, weaver, artist—was part of a group of textile makers who gravitated toward Bette and Bernie Hochberg's little house in Santa Cruz and the East Bay locations of Straw Into Gold. In the years since, she has taught spinning and weaving from coast to coast with her serious yet playful approach.
As a child, Stephenie remembers seeing clouds and imagining them as wispy shawls overhead. She uses her fine artist's training and eye when stirring a dyepot, designing clothing, and developing her textile plans, but she is drawn to well made tools and straightforward cloth. When she chose her first sewing machine at age 8, she preferred the straightforward practicality of her treadle machine to her mother's modern bells-and-whistles machine, because she could understand and work with every part of it. (She still has it.)
For decades, Stephenie worked in partnership with Alden Amos, the wheelmaker and teacher whose legendary technical expertise fill the pages of The Alden Amos Big Book of Handspinning. Her illustrations are on nearly every page of the book, bringing abstract concepts and technical directions and a bit of whimsy to the 500 pages. In illustration as in all her work, Stephenie does serious work with a gleeful sense of humor.
In her spinning classes, Stephenie loves listening to the challenges her students bring in, offering suggestions for the wheels and spindles that are giving them fits—suggestions that can be as gentle as a bit more oil or as direct as a quick tap of a hammer and anvil. Join us for a delightful conversation, with a dose of inspiration and empowerment.
This episode is brought to you by: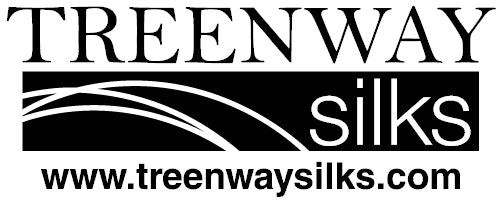 You'll find the largest variety of silk spinning fibers, silk yarn and silk threads & ribbons at TreenwaySilks.com. Choose from a rainbow of hand-dyed colors. Love natural? Their array of wild silk and silk-blends provide choices beyond white. Treenway Silks—where superior quality and customer service are guaranteed.
Links
Stephenie's first book, The Practical Spinner's Guide: Cotton, Flax, Hemp, features her illustrations in addition to information on cellulose fibers.
Stephenie has written dozens of articles on spinning, weaving, and textiles. Here are a few of our favorites: Weaving Handspun Yarn: Sizing Your Singles from Spin Off Spring 2018
Straight Talk on Hemp: Legends and Truths About the Forbidden Fiber with Alden Amos from Spin Off Summer 2015
Helix Scarf knitting pattern