I can think of a few things. Once you've gotten the yams, the stuffing, the cranberry sauce, whatever is essential for your holiday feast out of the way, just go a little nuts in the kitchen.
Try this:
Take your vegetable peelings and trimmings and cranberries that didn't make the cut, and instead of consigning them to the compost, spread them out on a prepared cotton towel (see Note 1). Roll it up like a jelly roll, tie the roll up with butcher string. Then set this tidy bundle aside for another day. Stick it in the back of the fridge! Or pantry! When you come upon it later—maybe when you're prepping for the Christmas holidays—take it out and unroll it. Does it look gross? No worries. Just wash it off. You will find vegetal colors embedded in the cloth. It will be mysterious.
Sounds crazy, but this is a method that began to be greatly popularized by India Flint (see Note 2) back in the twenty-teens, and her textiles have ended up on fashion runways. She was more deliberate and tasteful about it, but it's still the same idea.
If you are not feeling completely repelled by now and want to read further, try this:
Save those carrot tops that you cut off for your veggie tray, or crudités, whichever you have at your house. Or if you buy your carrots already trimmed up, use flat-leaf parsley instead. Or fresh sage leaves. Lay your foliage on a clean cotton towel (see Note 1), put a sheet of parchment paper over it, and beat it like crazy. Beat it with your meat tenderizer or your rolling pin or whatever tool is at hand. Beat it until its luscious greens have permeated the cloth. Voilá! Leaves on cloth! Maybe! And you will have relieved some of the stress of holiday feast preparation.
You can consider it done at this point, once you've rinsed off the smashed leaves, or you can simmer the cloth in a cast-iron vessel on the stove top. This will make the color less green and more gray, or sadder, as they used to say.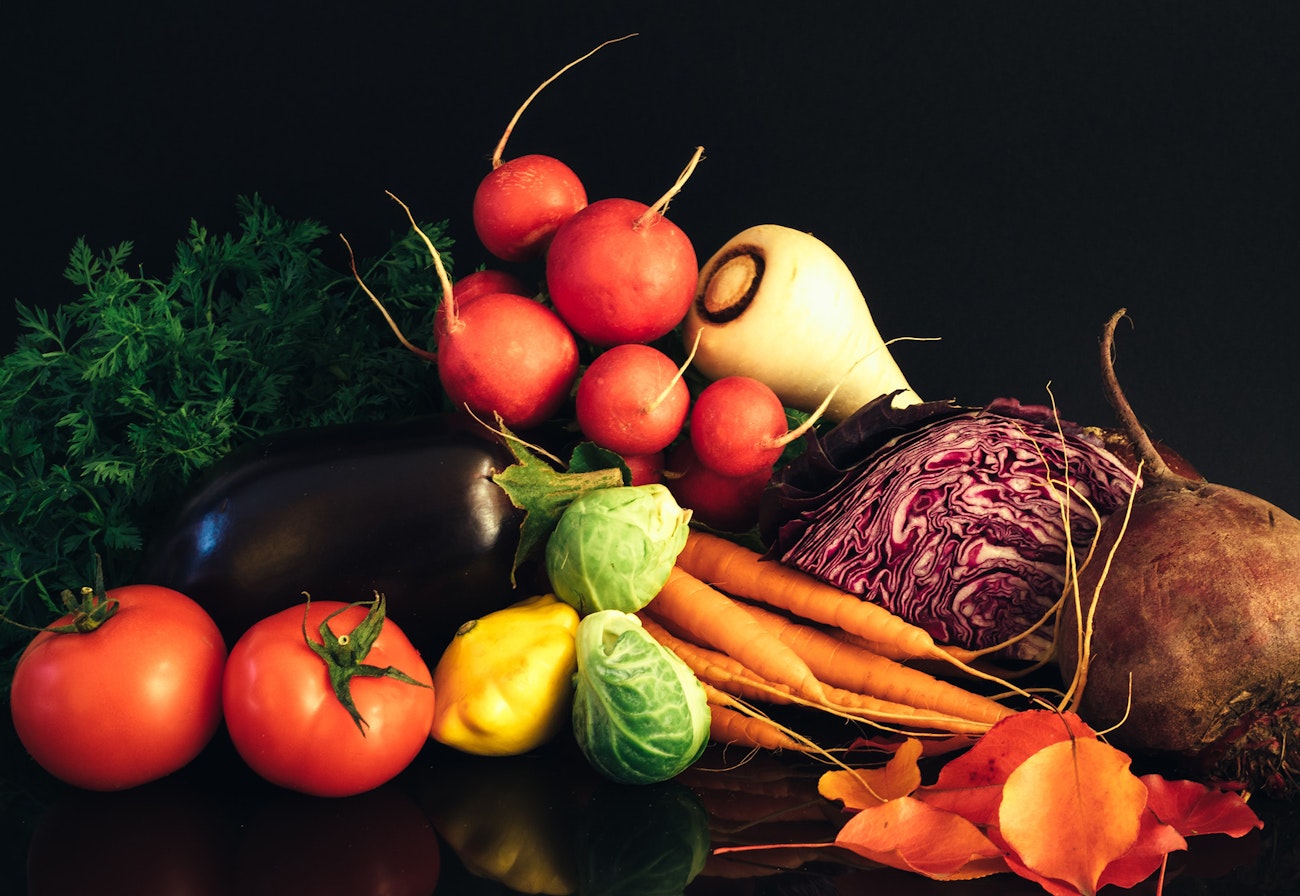 What colors will you harvest from your holiday feast? Photo by Sharon Pittaway via Unsplash
One more thing:
When I'm baking for a holiday, lots of spice jars sit out on my counter for easy access. Colors lurk therein. Saffron (only takes a pinch), turmeric, smoked paprika, ras el hanout, who knows what else? You won't know until you try. Just mix your spice(s) in a pot of water, adding enough that you've got strong color, and toss in a bit of fabric (see Note 1). Simmer for awhile, and then let it sit on the back of the stove or on the windowsill while you forget about it. The longer it sits, the more likely you are to end up with a nice color. Maybe by New Year's.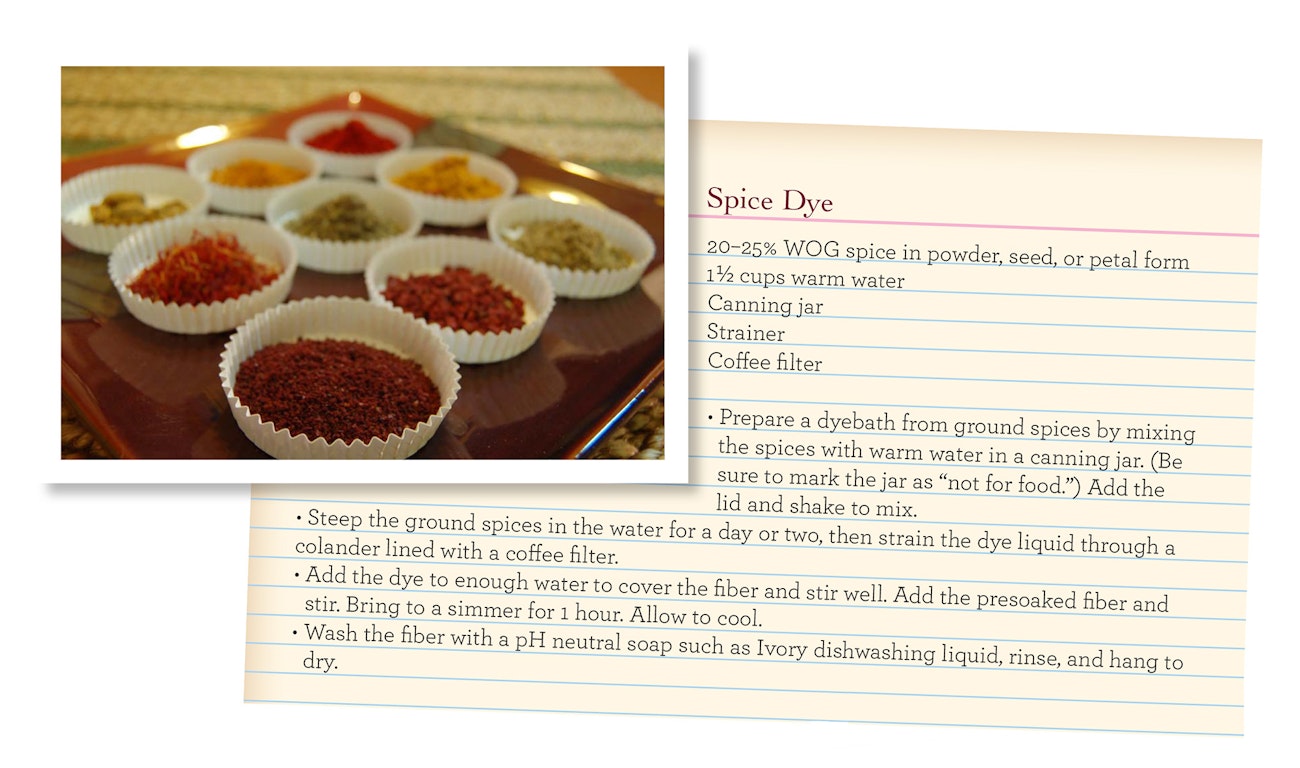 You can follow Linda's instructions or try this alternate spice dye method from "In the Kitchen" by Cathy Bullington and Michelle Cox. Start by weighing your fabric to find your weight of goods (WOG), then grab your spices and get started. Photo by Michelle Cox
This holiday season, I'm giving thanks for color—color lurking even in the humble recesses of my kitchen—and the freedom to play.
Notes
Like every good kitchen thing, a little prep work is required. As soon as your neighbors have taken down their inflatable skeletons—and not a moment before—round up some plain natural-fiber cloth. Old tea towels, napkins, maybe a silk scarf if you have one you don't want anymore. Simmer them in a pot of water with alum (about 6 tablespoons of pickling alum—or better yet, aluminum acetate—to two quarts of water). Simmer for a while, then lay out flat to dry. Then, as Thanksgiving cooking looms, the fun begins.

Flint, India. Eco Colour: Botanical Dyes for Beautiful Textiles. Loveland, CO: Interweave Press, 2010.
Linda Ligon is a cofounder of Long Thread Media.
---
Keep the fun going
If you enjoyed this article, check out our other holiday-inspired posts. Hop on over to our sister sites and let the fun continue (check back as we add more posts throughout the week too):